Home
REIGN OF FEAR IN ZVORNIK
The trial of Radovan Karadzic continued with the evidence of a Serb from Zvornik. In his statement to the OTP investigators, the witness described how the Serb forces attacked Zvornik, how Muslims were detained and the mass murders that took place at several locations in the town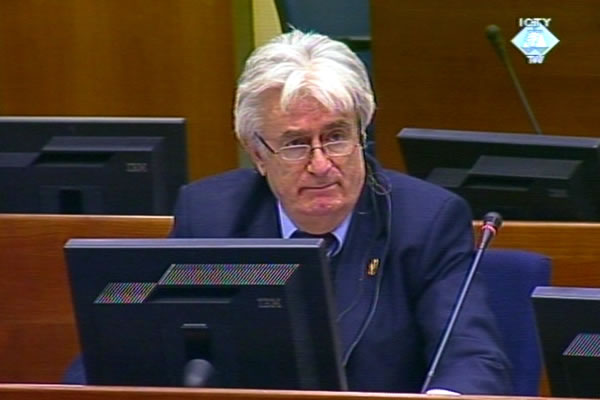 Radovan Karadzic in the courtroom
The trial of Radovan Karadzic continued today with the evidence of protected witness KDZ 610. The witness, it was understood, was a Serb who lived in Zvornik in 1992. In his written statement to the OTP investigators, the witness described the conflict that broke out in that town on 8 April 1992 and the attack launched by the Serb forces assisted by the JNA against the local Muslims. Most of the witness's testimony was heard in closed session.
In his statement, the witness described how Muslims were detained at various locations in Zvornik: the Alhos factory, at the Ekonomija farm and in the Culture Hall in Celopek. The witness also described the mass murders in the Drinjaca school and in Gera's slaughterhouse. In the brief examination-in chief, the witness confirmed that the VRS Zvornik Brigade was headquartered in the Standard shoe factory in Zvornik.
In the cross-examination, the witness dismissed Karadzic's claim that the Green Berets, the Black Swans, the Mosque Pigeons and other Muslim paramilitary groups operated in Zvornik in early 1992. The witness disagreed with Karadzic's claim that the SDA armed Muslims through the personnel the party had installed in the police. Muslims were issued weapons from the SUP in the afternoon of 8 April 1992, when the Serb troops moved in from the direction of Karakaj and entered Zvornik, the witness recounted.
Karadzic went on to claim that the Muslims took over power in Zvornik a month before the conflict broke out; Serbs were so afraid that they crossed the border and spent nights in Serbia. Quoting from a statement of an unnamed witness, Karadzic put it to the witness that there was street fighting in Zvornik on 8 April 1992.
As the witness said, in the evening of 7 April 1992, joint police patrols still went round Zvornik. The witness confirmed that before the conflict broke out, Serb women and children would go to Serbia for the weekend, but dismissed the claim that they did it because they feared Muslims. The witness never saw any street fighting before 9 April 1992, when he and his family went to Tuzla. The witness remained in Tuzla for two weeks.
In parts of the hearing open to the public, the witness agreed only with Karadzic's suggestion that in July, August and September 1992 there was 'a reign of fear and insecurity' in Zvornik, because of various Serb paramilitary formations which obstructed the functioning of the local civilian authorities.
Karadzic finally asked the witness how his stay in Tuzla was and if he noticed what Serbs and Muslims were doing to each other there. The witness replied that during the two weeks he was there in April 1992 he was just fine.
The trial of Radovan Karadzic will continue after the Easter break, on Tuesday, 10 April 1012.