Home
'IGNORANT ADVISORS' AND 'INDESTRUCTIBLE' MLADIC
Radovan Karadzic continued his cross-examination of General Manojlo Milovanovic. Karadzic shifted the blame on his war advisors who 'were ignorant and incompetent'. Karadzic insisted on his disagreements with 'the indestructible' Ratko Mladic. Karadzic had been trying to remove Mladic from his post to no avail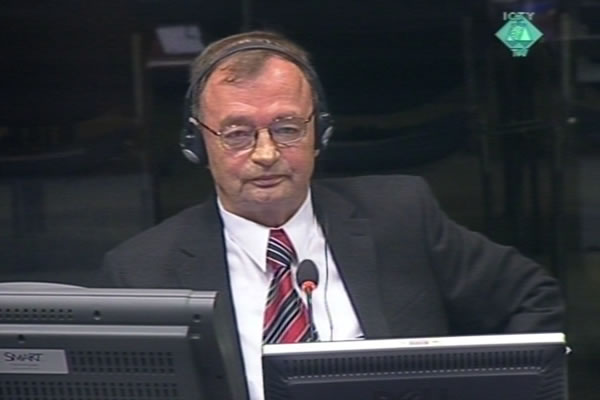 Manojlo Milanovic, witness at the Radovan Karadzic trial
Former chief of the VRS Main Staff Manojlo Milovanovic confirmed in the examination-in-chief that Radovan Karadzic was the supreme commander of the RS armed forces: the army, the police and the civil defense. Milovanovic took this opportunity to lay into Karadzic's advisors, saying they were responsible for the law that stipulated that 'President Karadzic is the supreme commander of the army, rather than of the Republika Srpska armed forces'. This made Karadzic 'directly' responsible for any acts committed by the army while in fact Karadzic was only 'indirectly' responsible, through Ratko Mladic and the Main Staff.
In the cross-examination, Karadzic suggested this 'error in law' resulted in the VRS having 'a double-headed command' in the war. Milovanovic dismissed the suggestion. 'Command and control in the army in the war was not double-headed, precisely because of the Main Staff. We remained under your personal command and you know full well that you were the only member of the Supreme Command who could issue orders to the army', Milovanovic replied. Milovanovic agreed that the president's advisors were 'ignorant and incompetent' and could not do their job properly.
In a bid to show that the chain of command in the VRS didn't work all that well, Karadzic brought up his conflict with 'the indestructible' Ratko Mladic, as he described him. The conflict lasted throughout the war and 'culminated' at the session of the RS Assembly on 15 and16 April 1995 in Sanski Most. Milovanovic confirmed that Karadzic offered him several times to replace Mladic. Milovanovic refused because the last offer was made at the time when the VRS was losing its positions. 'Only a fool would agree to command an army in strategic retreat and to assume responsibility for everything that had happened', Milovanovic said.
The former chief of the VRS Main Staff said that he was behind the petition signed by the Serbian generals and sent to the RS Assembly in August1995. In the petition, they urged the Assembly to quash Karadzic's decision to transform the VRS Main Staff; Mladic was to be reassigned to another post. Milovanovic learned later that Mladic had at the same time secretly 'begged' his subordinate commands to support him, which 'disappointed him terribly', as Milovanovic recounted today.
While Karadzic bemoaned his troubles in trying to exercise command over the army, Milovanovic complained about his 'ordeal' in the Podrinje theatre before the agreement to establish protected zones was reached. Milovanovic boasted that in the spring of 1993, the Serb army 'took Cerska and Kamenica without a fight thanks to Philip Morillon'.
Karadzic will continue his cross-examination of General Manojlo Milovanovic on Monday, 5 March 2012.