Home
KARADZIC, MILOVANOVIC AND ARKAN'S 'PRIVATE TERRORISM'
General Manojlo Milovanovic said at the trial of Radovan Karadzic that he learned about the war crimes committed by Zeljko Raznatovic Arkan's volunteers at a later date, from the media and the Tribunal. Milovanovic contends that the crimes were committed 'outside of the state framework'. He called them 'private terrorism'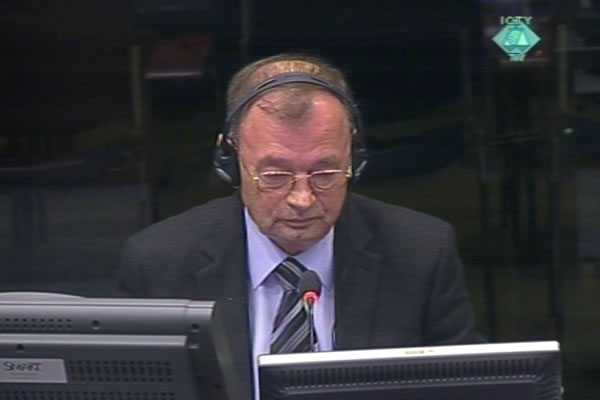 Manojlo Milanovic, witness at the Radovan Karadzic trial
Former chief of the VRS Main Staff Manojlo Milovanovic is testifying at the trial of Radovan Karadzic. As Milovanovic told the court, he learned about the crimes Zeljko Raznatovic Arkan's troops had committed in 1992 in the Bijeljina area much later, from the media and 'thanks to this court', the Tribunal, 'I know that he committed war crimes, outside of the state framework', Milovanovic said. He called the crimes of Arkan's volunteers 'private terrorism'.
General Milovanovic noted that in late August 1995, he insisted on a meeting with Arkan in Banski dvori in Banja Luka. Radovan Karadzic, Momcilo Krajisnik, Nikola Koljevic and Biljana Plavsic were there too. Milovanovic asked Karadzic to arrange the meeting after Arkan beat up several VRS officers and shaved their heads near Kljuc. One of those officers was Colonel Svetozar Andric. Before the war, Andric, who was a police officer in Belgrade, arrested Arkan several times.
Milovanovic's conversation with Arkan in Banski dvori could not be described as a proper conversation between two officers, Milovanovic said. Arkan complained that things were not easy for him because he had 22-year old wife who pined for him. Milovanovic told Arkan that his wife was 52 and didn't have time to pine because she was following him from trench to trench. When Milovanovic asked Arkan who had ordered him to come to Republika Srpska, Arkan said he was there on the orders of the supreme commander. When Milovanovic asked Karadzic if that was true, Karadzic 'neither confirmed nor denied it'.
When he realized that 'any further discussion was pointless' Milovanovic said to Arkan that he and General Ratko Mladic agreed to close down the Serbian Volunteer Guard camps in Manjaca and Kotorsko. However, later that night Mladic sent a note to Milovanovic saying it wasn't necessary to do anything as Arkan's men were 'already pulling out'. A video recording of the farewell ceremony for the Serbian Volunteer Guard in Bijeljina, two days after the meeting in Banja Luka, showed what the 'pull-out' looked like.
After inspecting the honor guard of the SDG, president Karadzic gave Arkan an award and thanked Arkan for everything he had done. Karadzic said that Arkan and his men 'will always be dear guests in the hearts of the people they had protected and defended'. Arkan replied to Karadzic that he and his soldiers were ready to return at his call to 'defend our hearths, our women and children, the Serb territories and our Orthodox faith'.
Milovanovic also mentioned other paramilitary units like the Chetniks run by Aleksic and Vaske. The units were active in the Sarajevo area but 'didn't cause the army any problems' as they fought side by side with the army. 'Vaskic's Chethniks' took part with the VRS in Operation Brgule 94 on the Nisici plateau, and, according to Milovanovic, proved to be 'good fighters'.
In the first part of his testimony, Milovanovic presented his CV, describing his acquaintance with General Ratko Mladic that began in 1981. In the pre-war period, the two JNA officers occasionally competed with each other and had their disagreements. Mladic's and Milovanovic's relationship got stronger in the 1990s, after the breakup of Yugoslavia, when Milovanovic was transferred to BH and appointed Chief of the Main Staff in the VRS and Mladic's deputy.
Manojlo Milovanovic will continue his evidence tomorrow.