Home
KIDNAPPING AND MURDER OF ROMA IN JABLANICA
A protected prosecution witness described at the trial of Haradinaj, Balaj and Brahimaj how two Roma men were kidnapped in May 1998. They were then taken to the Jablanica prison camp where they were executed. After this witness, the prosecution called a man whose brother was kept prisoner in the KLA prison camp in Jablanica. He also testified as a protected witness. The defense protested against a letter the Serbian National Council for Cooperation with the Tribunal sent to the ICTY president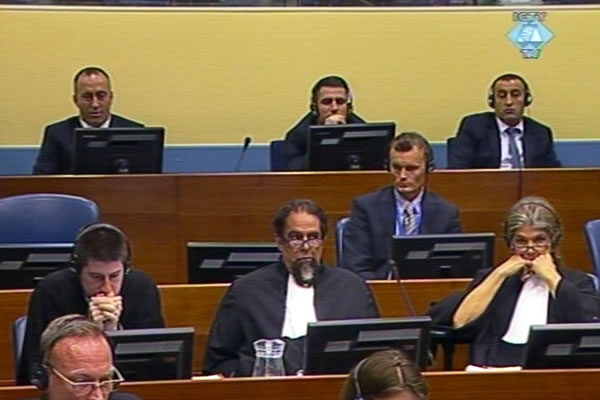 Ramush Haradinaj, Idriz Balaj and Lahi Brahimaj in the courtroom
The trial of former KLA commanders Ramush Haradinaj, Idriz Balaj and Lahi Brahimaj continued today with the evidence of a protected witness testifying under the pseudonym 78. The witness's statement to the OTP investigators from September 2007 was admitted into evidence. The prosecutor read out a brief summary in which the witness recounted what he knew about the disappearance of two Roma/Egyptians, Uka Rexhpaj and his brother-in-law Nesret Alijaj, in Klina municipality.

In his statement, the witness said he 'heard' that armed and uniformed men speaking Albanian arrested the two men in May 1998 on the road between the villages of Grabanica and Dolovo. The witness didn't know why they had been kidnapped. In 2003, Uka Rexhepaj's clothes were identified when the International Red Cross laid out the items believed to have belonged to persons gone missing in Kosovo. These items were laid out on a location in Zvecan.

The indictment against Haradinaj, Balaj and Brahimaj alleges that the KLA members kidnapped Rexhepaj and Alijaj on 25 May 1998 in the village of Grabanica and took them to the Jablanica prison camp because they were accused of collaborating with Serbs. Rexhepaj and Alijaj were executed soon afterwards on the orders of Lahi Brahimaj, the KLA commander in Jablanica, the indictment alleges.

It was impossible to follow the cross-examination by Brahimaj's defense counsel, both because the court went into closed session often, and because a technical failure made it impossible to hear the witness's responses in open session.

The trial continued with another protected prosecution witness, testifying under the pseudonym 75. The witness said that soldiers with the KLA insignia stopped him and his brother in May 1998 on the road near the village of Zabalj. The soldiers then arrested the witness's brother. When the witness asked where they were taking his brother, soldiers told him 'to Jablanica'. The witness asked why and instead of an answer, he was beaten up. The witness travelled repeatedly to Jablanica to visit his detained brother. Today the prosecutor showed the witness photos and the witness was able to identify the facilities in the Jablanica prison camp. The witness will speak in more detail about his visits to the camp on Wednesday.

At the hearing today, Haradinaj's defense protested against a recent public statement of the Serbian National Council for the Cooperation with the Tribunal. As Haradinaj's defense lawyer said, the Council has sent a letter to the ICTY president requesting protective measures for witnesses testifying at the trial of the former KLA commanders; the purpose was to 'achieve certain results'. The defense argues that it was 'improper and unacceptable interference with the working of the Tribunal'. Presiding judge Moloto assured the defense counsel that the Trial Chamber had not received any such letters; the judges were completely unaware of it until the defense brought it to their attention.