Home
DID HARADINAJ CONTROL KLA CAMP IN JABLANICA?
Prosecution witness Bislim Zyrapi was today cross-examined by the defense. He agreed with the defense that in the summer of 1998 the KLA was 'an embryonic army', which had problems establishing coordination. He did remain adamant, however, that Ramush Haradinaj had under his command the entire Dukagjin Operational Zone, which included the KLA camp in Jablanica. The prosecution alleges that many crimes were committed there against Albanian, Serb and Roma prisoners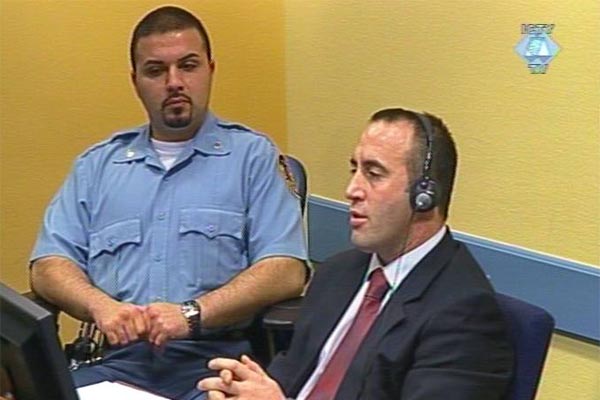 Ramush Haradinaj in the courtroom
Bislim Zyrapi, former chief of the General Staff of the Kosovo Liberation Army continued his evidence today at the trial of Ramush Haradinaj, Idriz Balaj and Lahi Brahimaj. In his examination-in-chief he said that in the summer of 1998 he had visited the village of Jablanica. The prosecution alleges that the crimes the three accused are charged with happened in the prison there. As the witness recounted, the first visit, in the presence of Ramush Haradinaj occurred in mid-July, and the second in late August or early September.
According to the witness, the camp commander was Lahi Brahimaj. He and the other KLA soldiers in that area were subordinated to the commander of the Dukagjin Operational Zone, headquartered in Glodjan. That man was Ramush Haradinaj. Yesterday, Zyrapi said that the Rapid Reaction Unit, known as the Black Eagles, also reported to Haradinaj. Its commander was Idriz Balaj.
Haradinaj's defense counsel Ben Emmerson tried to prove in his cross-examination that in the summer of 1998 the KLA was an 'embryonic army' without a strict chain of command, organized 'on vertical rather than horizontal lines', without proper coordination and with scarce logistical support. The witness fully agreed with the description.
Yet Zyrapi did not agree with the defense that Brahimaj exercised command over Jablanica independently of other KLA structures. The witness remained adamant that in the summer of 1998 Jablanica was under the control of the Dukagjin Operational Zone and its commander, Ramush Haradinaj. When he was asked if he himself could be held responsible for any crime in Jablanica because he was on the KLA General Staff at the time, Zyrapi said, 'Yes, if I had been told about them or had been there'.
The defense counsel wanted to know whether the witness saw any detention facilities during his first visit of Jablanica in July 1998. The witness said he did not because he did not go into the camp itself, but visited the units deployed around it. When Brahimaj's lawyer Richard Harvey asked him questions, Zyrapi said the situation during his second visit was similar. He did not visit the camp and was not told by anyone that there was a prison there.
The trial of Haradinaj, Balaj and Brahimaj will continue on Monday afternoon. Bislim Zyrapi will return to court briefly to complete his evidence, and then the prosecution will call its fourth witness.