Home
WITNESS WISHES KARADZIC HAPPY INDEPENDENCE DAY
Radovan Karadzic accused a former police officer from Sarajevo of being part of a 'joint criminal enterprise aimed at carving up Bosnia'. On 1 March 1992, the citizens 'voted for the secession of BH from Yugoslavia', the witness replied. Since Karadzic was 'unfortunately still a citizen of Bosnia and Herzegovina', the witness wished him a happy Independence Day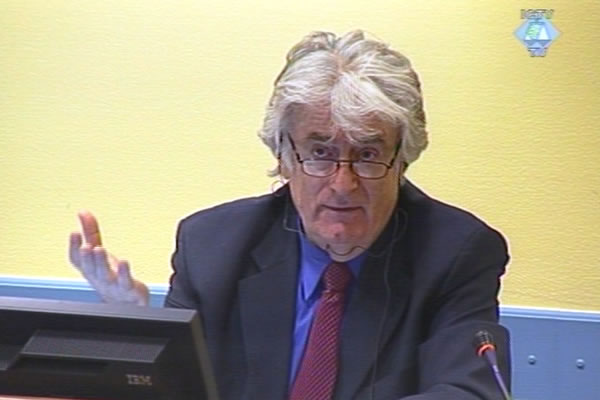 Radovan Karadžić u sudnici Tribunala
The trial of former Republika Srpska president Radovan Karadzic continued this week with the cross-examination of a former police officer testifying under the pseudonym KDZ 020. Last Friday the witness began his evidence at the end of the hearing. The transcripts of KDZ 020's testimony at the trials of Momcilo Krajisnik and Mico Stanisic and Stojan Zupljanin were admitted into evidence. The prosecutor read out the summary of the witness's statement.
The statement focuses on the situation in the Sarajevo municipality of Vogosca in 1992, the establishment of the crisis staff there, the distribution of arms, the ethnic division, the worsening of the security situation and the increasing number of incidents. The witness also spoke about the attacks on the police and the detention of Muslims in detention facilities Kon tiki, Bunker and Planjo's house. The prosecution asked the witness to listen to the recordings of several intercepted conversations and to identify the participants.
In the cross-examination, Karadzic quoted from the transcripts of several intercepted conversations between various leading figures of the Serbian Democratic Party, including the accused, Momcilo Krajisnik, Jovan Tintor, Rajko Koprivica and Mico Stanisic. According to Karadzic, those conversations confirm that Muslims caused Serbs to feel 'rage, insecurity and tension'. Muslims were the first to establish crisis staffs and 'stepped up their efforts to create an army of the republic, from the units of the Patriotic League, the Green Berets, the Territorial Defense and the Muslim personnel in the police'. This was an 'absolute lie', the witness replied. Stressing that he was under oath, he said that the Serbs were the first to establish crisis staffs as early as in September 1991, because they felt 'strong and arrogant'.
Karadzic accused the witness of 'inciting civil war', being a member of a 'joint criminal enterprise aimed at carving up Bosnia', of 'spying on Serbs' and killing civilians. The media and the police reported on those activities, Karadzic said. The witness denied all the allegations, protesting against Karadzic's attempts to 'link' him with war crimes. Karadzic's machinations were behind these reports, the witness said.
Frequent heated exchanges with the accused marked the evidence of KDZ 020. At one point, the accused asked the witness 'what gives you the right to take Bosnian Serbs out of Yugoslavia'. On 1 March 1992, a referendum was held in Bosnia and more than 65 percent of the people 'voted for the secession of Bosnia and Herzegovina from Yugoslavia', the witness retorted harshly. Bosniaks, Serbs and Croats celebrate that date, the witness said, and then wished Karadzic a happy Independence Day because Karadzic was 'unfortunately still a citizen of Bosnia and Herzegovina'.
KDZ 020 will complete his evidence tomorrow.