Home
LESSONS FROM KARADZIC'S TV APPEARANCES
At the trial of Radovan Karadzic, prosecution witness Ramiz Mujkic described the crimes of 'weekend Chetniks' in Planjo's house and his own ordeal. Mujkic blames Karadzic for the 'blood spilled in Bosnia', describing the accused as 'a bloodthirsty lion from TV for whom the truth is an equation with several unknowns'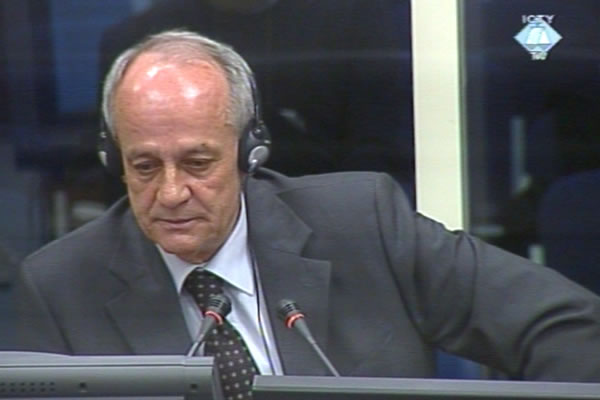 Ramiz Mujkic, witness at the Radovan Karadzic trial
Ramiz Mujkic from the village of Ahatovici in Novo Sarajevo municipality narrowly avoided the fate of some 50 villagers and relatives of his who were killed on 14 June 1992 in a massacre when fire was opened on a bus that was heading towards Pale. At the trial of the former Republika Srpska president Radovan Karadzic Mujkic described his "life path" as a prisoner that began on 6 August 1992.
Mujkic started his evidence on 17 February 2011. The testimony was then suspended as the Trial Chamber had to hear Professor Berko Zecevic's evidence. The summary of Mujkic's statement states that in August 1992 Mujkic was arrested and detained in the military barracks in Rajlovac. His 'teeth and jaw were broken' there. Three days later Mujkic was transferred to an improvised military hospital and on 22 August 1992 he was taken to Planjo's house, in the Vogosca municipality, which had been turned into a prisoner facility. Mujkic was held there 'for two months and five days'. Karadzic is charged with the murder of several prisoners who were held in Planjo's house, used as forced labor and human shields.
Prisoners were 'humiliated, forced to eat cigarette butts and perform oral sex on other prisoners', Mujkic recounted. One man was ordered to 'take off his clothes and jump from the balcony to the concrete floor' to show that he 'could swim'. According to Mujkic, the gravest crimes were perpetrated by what he called 'weekend Chetniks'. They came to Planjo's house 'after midnight, after they got drunk'.
In the cross-examination Karadzic wanted to hear why Mujkic failed to 'describe those situations that cause indignation' in his earlier statements to the investigators. Mujkic remembered them just before his evidence at the trial of Momcilo Krajisnik, Karadzic noted. The witness said that they 'didn't ask him that earlier'. 'I would like to erase what I saw from my memory', Mujkic said.
The accused then put it to the witness that he had changed his statement 'on someone's orders'. At the Krajisnik trial, the witness claimed that Mirko Krajisnik, Nikola Poplasen and a man whose name he didn't remember visited him in the barracks in Rajlovac, Karadzic said. 'This is my life, this is what I lived through,' Mujkic replied, adding that he could 'draw' those who came to see him in the cell.
Another topic in the cross-examination was the pre-war administrative division of Sarajevo. Karadzic contends that Sarajevo was divided to the detriment of Serbs. Karadzic also asked the witness about his efforts to get his son out of the JNA and to send his daughter to his relatives in Germany. Karadzic asked the witness 'what is it that you knew – and the others didn't – that made you send your daughter in early April 1992 to Germany'. 'I knew because I watched you every evening on television', the witness responded with some animosity.
When Karadzic said the reason he had demanded that Muslims be sent to third countries was to prevent their repeated arrests, Mujkic responded, 'if I didn't know you for a bloodthirsty lion from television, I would call you are a little lamb'. For the accused the 'truth is an equation with several unknowns', Mujkic said. When he looked at Karadzic, Mujkic said, 'I see the man who murdered my son'. 'I have yet to find his bones, he concluded.
Radovan Karadzic's trial continued with the evidence of a witness testifying under the pseudonym KDZ 20, who already testified at the trials of Momcilo Krajisnik and of Mico Stanisic and Stojan Zupljanin.