Home
UNARMED OBSERVERS AS 'WARRING SIDE'
Former UN military observer in BH described at the trial of Radovan Karadzic his captivity at the hands of the Bosnian Serb army, which used the witness and other UN peace-keepers as 'human shields' against NATO strikes in May and June 1995. It is Karadzic's case that they were not hostages but prisoners of war as the UN in BH in effect became a 'warring side'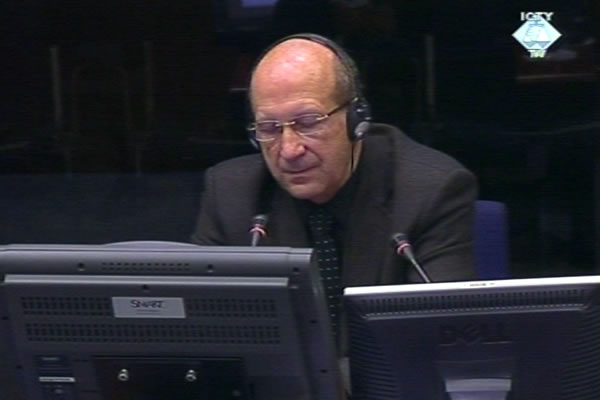 Janusz Kalbarczyk, witness at the Radovan Karadzic trial
At the trial of Radovan Karadzic, the prosecution called a retired colonel in the Polish army, Janusz Kalbarczyk. He was one of 200 UN staff taken hostage by the Bosnian Serb forces in May 1995. The Serb army used them, as alleged in the indictment, as 'human shields', placing them in strategic facilities that could be targeted by NATO air strikes.
At the time Kalbarczyk was a major, serving as a UN military observer in Pale. Military observers were not armed and Kalbarczyk and his four colleagues were 'easy prey' for the armed Serb police officers. On 26 May 1995, less than an hour after NATO aircraft struck a weapons depot near Pale, the police officers barged into the observers' house, threatening them, saying 'we'll kill you if there are more air strikes'. Soon afterwards, some Serb soldiers arrived and their commander told the observers that they were now VRS hostages. Handcuffed, the observers were driven towards the Pale center. They stopped briefly in the town market, and the crowd of civilians and soldiers could vent their anger on the hostages, insulting them and spitting in their faces.
From the town market, they continued towards Jahorinski Potok, the site where the ammunition depot that had been hit was. There Kalbarczyk saw three of his colleagues, military observers from Russia, Canada and the Czech Republic. They were tied to the depot doors and an electricity pole nearby. The Serb tied Kalbarczyk to a lightning rod and disappeared quickly. He realized that the Serbs expected new strikes and that he and three of his colleagues were there as a 'human shield', Kalbarczyk recounted.
'I was extremely agitated and ready to die. I thought there could be another air strike and I could die', Kalbarczyk said. After four or five hours, the soldiers returned, removed the handcuffs and put him into a car together with a Canadian observer. The Russian and Czech observers were left there. They headed towards Pale and stopped at a check point where they blindfolded the two hostages. Then they continued on a mountain road. When they stopped and took off the blindfold, Kalbarczyk saw they were on a mountain top, by a radar station studded with big parabolic aerials. A journalist approached them, and told them not to worry and that he only wanted to film the UN soldiers. And so it was: after about fifteen minutes of filming, the hostages were returned to Pale. The hostages were taken to a house. If need arose, they could be taken quickly to various possible NATO air strike targets from that house.
Prosecutor Ann Sutherland showed several excerpts from a report broadcast by the Pale TV that day. In the footage, the witness identified himself and several other UN staff. Kalbarczyk recognized his Canadian colleague, scheduled to testify next week. The journalist concluded his report by saying, 'their survival will depend on whether NATO will strike or not'.
The VRS soldiers handed over the witness and 25 UN soldiers from seven countries to the Red Berets on 13 June 1995. The unit under Jovica Stanisic's command took the hostages to Serbia and the next day they were flown to Croatia.
As he cross-examined the Polish colonel, Karadzic tried to prove that captured UNPROFOR soldiers were not hostages but prisoners of war. They were arrested on suspicion of acting as spotters for NATO airplanes as they attacked Bosnian Serb military targets. Karadzic also tried to show that at the time the Serbs didn't make a distinction between military observers and UNPROFOR soldiers. Karadzic contends that UNPROFOR was NATO's ally in the fight against Serbs and therefore a 'warring side'.
The trial continues on Monday afternoon.
Photos