Home
KARADZIC: CIVILIANS WERE NOT KILLED DELIBERATELY
Continuing his cross-examination of the high-ranking UNPROFOR officer from France, Radovan Karadzic argued that the Serb army didn't fire on civilians 'deliberately'. Civilians were killed in the clashes that resulted when the BH Army attacked, and it always attacked first, Karadzic claimed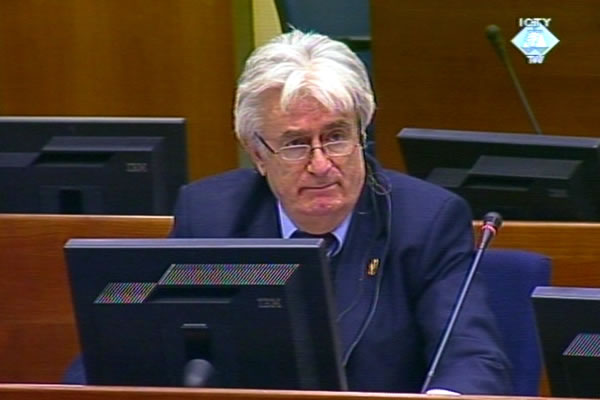 Radovan Karadzic in the courtroom
Radovan Karadzic continued his cross-examination of the French officer who testified under the pseudonym KDZ-450. Once again, Karadzic claimed that the other side – the BH Army – 'staged all the incidents with great many casualties' in order to 'vilify Serbs' and bring about an international military intervention.
Karadzic corroborated his claim with a document drafted by a 'distinguished UNPROFOR general' whose name he didn't disclose. The document says that on 18 September 1994 the BH Army attacked the VRS positions hoping that the Bosnian Serbs would respond, seize the heavy artillery they had surrendered to the UN, resume the shelling attacks and 'put Sarajevo back in the headlines of the world media'.
'This shows how this person saw the situation', the witness replied. 'In my assessment, there were provocations on both sides', he added. Karadzic asked the witness to give by way of an example 'at least one case when the Serb side attacked first'. The witness was able to recall two artillery attacks on civilians before the first Markale Massacre on 5 February 1994 – the incidents in Dobrinja and Alipasino polje.
'I stand accused here of everything and then some, although I was a civilian head of the state and the army', Karadzic protested, claiming that the Serbs didn't open fire on civilians in Sarajevo 'deliberately'. Civilians were killed in the fighting that was brought to the Serbs by the BH Army which was always first to attack. It was a 'game in which the sides tried to provoke each other and then respond', the witness replied, adding that the Serb snipers 'didn't hesitate to kill civilians' and the UN staff.
Although Karadzic has claimed since the beginning of the trial that the 'Muslim army' was killing its own civilians, he finds it illogical to even think that the Serbs could be such criminals, as he put it, to fire on the city where one third of the residents were ethnic Serbs. The witness replied that based on UNPROFOR's investigations he is 'convinced that civilians were killed and that fire was opened from the Serb side'. Both sides were killing civilians, the witness added.
Unhappy with the witness's replies, Karadzic put it to him that despite the traditional friendship between the Serbs and the French dating from 1914, the French officer was seen as 'anti-Serb' precisely because of this 'partiality'. 'I am not surprised', the witness replied, saying he knew that there was still a monument expressing the Serbs' gratitude to France in Belgrade today. The witness then asked to go into closed session, and the public never heard what he responded to Karadzic's accusation he was 'biased against Serbs'.
Radovan Karadzic 's trial continues next Tuesday with the evidence of Zaim Kosaric.