Home
STANISIC'S DEFENSE ASKS FOR MORE MONEY
Stanisic's lawyer Jordash today addressed the Trial Chamber to explain that USD 23,000 a month – the amount his team has been receiving until now – would not be enough to cover the defense expenses in the upcoming period. The defense case is due to open soon, and the scale and cost of their work is going to increase, Jordash argued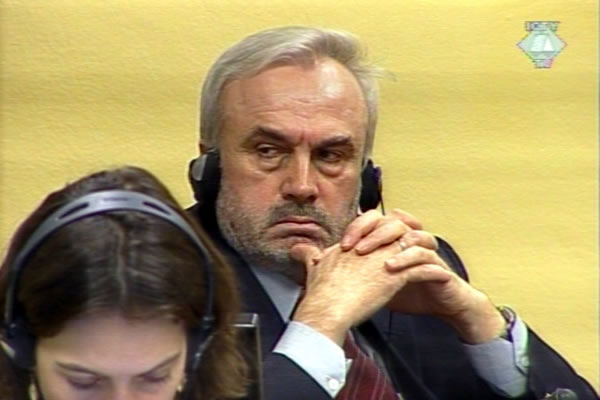 Jovica Stanisic in the courtroom
Judge Orie's Trial Chamber today heard the evidence of another witness who testified entirely in closed session. Jovica Stanisic's defense counsel was then granted permission to expand on the problem mentioned briefly at the end of the hearing the day before yesterday. Stanisic's defense is not happy with the funds provided by the Tribunal's Registry.
As defense counsel Jordash said, the Tribunal has paid only USD 15,000 for the salaries of the support staff, while the accused has had to pay USD 7,000 towards his counsel's fees. This has been enough to allow for the defense to prepare for the cross-examination of the prosecution witnesses, Jordash said, but from now on, it will no longer be possible: the defense is due to start its case in a few months' time. This will incur additional costs and it will be necessary to employ at least one co-counsel, Jordash said.
The presiding judge said he had a lot of understanding for the problems Stanisic's defense faced, but asked what Stanisic actually wanted; the Trial Chamber has no jurisdiction over financial issues. Stanisic's lawyer said he was 'demanding the Trial Chamber to intervene in a matter that is primarily under the Registry's jurisdiction', since the judges are responsible for ensuring a fair trial for all the accused. After a brief consultation, the judges ordered the defense counsel to file a more specific motion, in writing.
Franko Simatovic's defense joined the motion made by Stanisic's defense, stressing that it faced 'identical problems'.
Jovica Stanisic and Franko Simatovic are charged with being part of a joint criminal enterprise aimed at achieving forcible and permanent elimination of non-Serbs from large swathes of Croatia and BH by persecution, murder, deportation and forcible transfer, with the involvement of the police and paramilitary units under the command of the accused.