Home
EVIDENCE FROM MASS GRAVES
Croatian pathologist Davor Strinovic and psychologist Visnja Bilic testified about the activities of the government bodies on the exhumation and identification of the bodies found in mass graves in various locations in Krajina and Eastern Slavonia. The mass graves are listed in the indictment against former chiefs of the Serbian secret service Jovica Stanisic and Franko Simatovic. The bodies of 1,881 civilians have been identified while more than 1,000 remain unidentified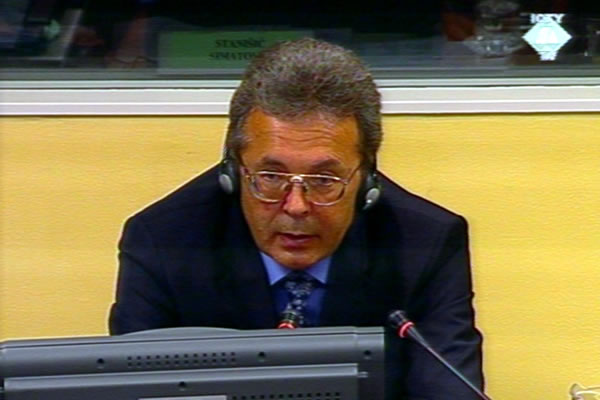 Davor Strinovic, witness at the Jovica Stanisic i Franko Simatovic trial
The trial of Jovica Stanisic and Franko Simatovic continued today with the evidence of two experts, Davor Strinovic, a pathologist from Zagreb, and psychologist Visnja Bilic. Strinovic and Bilic talked about the exhumation and identification of bodies from mass and individual graves found in Croatia, in locations where crimes listed in the indictment against the former chiefs of Serbian secret service were perpetrated.
At the beginning of today's hearing, Jovica Stanisic asked for permission to address the Trial Chamber, in closed session. When the court went back into open session, it was announced that Stanisic will not attend the trial this week for health reasons. Stanisic however agreed that the trial could proceed in his absence.
Davor Strinovic, head of the Institute of Pathology at the Medical School in Zagreb, has already testified four times in The Hague, at the trials of Slobodan Milosevic, Vojislav Seselj, the Vukovar Three and in the case of Milan Martic. The transcript of Strinovic's evidence at the trial of the former RSK president was admitted into evidence today.
The expert report the witness drafted was also admitted into evidence. In his report, the witness presents the results of the exhumations, post mortems and identifications of victims found at different crime scenes listed in the indictment. The crimes were perpetrated in the Krajina villages of Bacin, Saborsko, Skabrnja, Bruska and Vukovici while Erdut and Dalj, villages in Eastern Slavonia, were also mentioned. According to the Croatian forensic teams, most of the victims had been shot. Some of the victims were shot at point-blank range to the backs of their head, Strinovic noted.
[IMAGE]4778[/IMAGE]The defense was not prepared to cross-examine Strinovic today because some documents were disclosed late. Visnja Bilic, an employee of the Croatian Administration for Detainees and Missing Persons, took the stand after Strinovic. In her report, Bilic says that 3,100 persons have been identified so far; their bodies have been recovered from the mass graves in Croatia, created until the summer of 1995. 1,881 bodies belonged to civilians, 1,488 Croats. 1,029 persons remain unidentified.
The witness participated in the exhumation of bodies in the village of Bacin. In October 1991, 56 Croatian civilians were killed there. The witness then attended the exhumation in Daljski Atar where 23 bodies were discovered in a well. The bodies belonged to Croats, residents of Dalj, who were taken out of their homes in 1991 and 1992, the witness explained. The bodies of persons who had been taken out earlier were located near the bottom of the well, while the bodies of civilians that disappeared later were closer to the top.
The indictment charges Stanisic and Simatovic that they were part of the joint criminal enterprise together with the then Serbian political and military leadership; they organized and coordinated activities of the police and paramilitary formations in Bosnia and Croatia. Those formations included the Krajina militia and units operating in Eastern Slavonia.