Home
WITNESS: KARADZIC'S MUDDLED QUESTIONING
As the cross-examination of war reporter Aernout Van Lynden drew to a close, Radovan Karadzic spiced up his argument with quotes from General Michael Rose's book. As a new witness, Colm Doyle, took the stand, the prosecution tendered into evidence a video recording of Karadzic's speech in the Bosnian Serb Assembly. In his address Karadzic compared living with Muslims to cats and dogs living together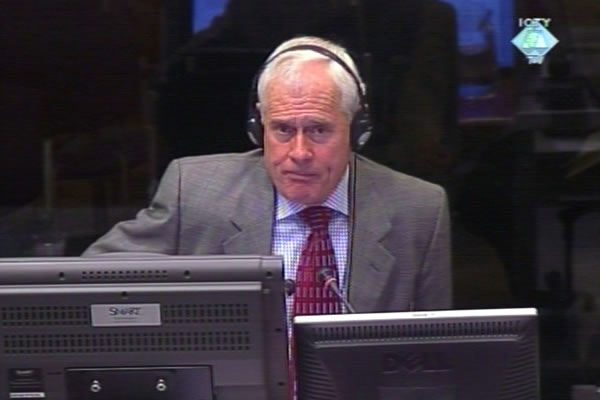 Colm Doyle, witness at Radovan Karadzic's trial
As Radovan Karadzic's cross-examination of Aernout Van Lynden, journalist of the British TV network Sky News who covered the war in Sarajevo, drew to a close, the accused argued that the main goal of the 'Muslim' politicians, as he calls the BH war government, was to 'provoke the foreign intervention and slander the Serbs'.
To corroborate his claims, Karadzic used a book
Fighting for Peace
by former UNPROFOR commander in Bosnia Herzegovina, Michael Rose. Rose wrote that when he entered Sarajevo 'the Muslim army' fired several shells on the Serb positions. According to Rose, the aim was to provoke the Serb artillery to respond in order to be able to say that 'aggression was launched' against BH.
Karadzic suggested that Van Lynden was 'deceived' by the 'Muslim authorities' and that this was reflected in his war reports. 'I was never received in Sarajevo as Mr. Rose believes he was', the witness replied, adding that he didn't believe that what he saw and what he wrote about in June 1992 was organized 'to honor' him. The witness also noted that he never saw the Bosnian troops 'shooting at their own soldiers' as Karadzic contended. 'Enough fire was opened on Bosnians by your forces and there was no need for them to fire at themselves to cause the consternation of the international public', Van Lynden concluded.
Due to urgent obligations, the witness had to leave The Hague today. Karadzic asked for the witness to be recalled to complete his cross-examination. Despite his belief that the eight hours Karadzic spent so far 'should be sufficient', the witness was willing to return if the Trial Chamber decides to recall him. Noting that it was the seventh time he was testifying before the Tribunal, Van Lynden said he had never been examined 'in such a muddled way'.
As the hearing today drew to a close, the prosecution called its next witness, Colm Doyle, former head of the European Commission Monitoring Mission in BH. The prosecution tendered into evidence the transcript of Doyle's evidence at the trial of Slobodan Milosevic in 2003 and several other reports of the ECMM. The witness said that in general the European monitors concluded that Serbs aided by the JNA wanted 'by force and intimidation' to create 'their ethnically cleansed territory' without other ethnic communities, particularly not Muslims.
Among other things, the prosecution showed a video recording of Karadzic's speech at the 21st meeting of the Bosnian Serb Assembly in October 1992, when Karadzic said remaining in the same country with Muslims seemed to him like putting 'a dog and a cat' in the same box. 'Serbs undoubtedly didn't want to live with Muslims', Doyle concluded. Colm Doyle will continue his evidence on Wednesday, 26 May 2010.