Home
TRIAL CHAMBER CONCERNED OVER KARADZIC'S PROFLIGACY
The Trial Chamber rejected Radovan Karadzic's repeated demand to delete war reporters from the list of prosecution witnesses. Among them is Aernaut Van Lynden, who covered the war for the Sky News network. The Trial Chamber expressed its concern over Karadzic's profligacy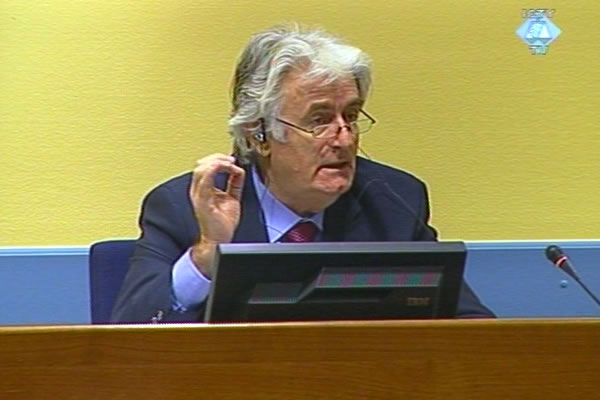 Radovan Karadzic in the courtroom
The Trial Chamber dismissed Radovan Karadzic's latest motion to reject the evidence of Aernaut Van Lynden, war reporter of the Sky News TV network from Sarajevo. Van Lynden is scheduled to give evidence on Wednesday, 19 May 2010.
In May 2009 the Trial Chamber rejected as 'frivolous and vexatious' Karadzic's first request to delete all war reporters from the prosecution's witness list. According to Karadzic their appearance before the court would additionally jeopardize their 'already dangerous job'.
Despite that, on 14 May 2010 Karadzic filed yet another motion exclusively on the topic of Van Lynden, scheduled to give evidence later this week. Repeating the argument that was dismissed last year as 'unfounded and futile', Karadzic this time added the analogy with the International Red Cross Committee. As he notes, only the ICRC can decide whether it will allow or prohibit the testimony of its staff members before the International Tribunal, not the individuals whose evidence is sought. Also, Karadzic contends that the media, the Sky News in this case, and not its employees, such as Van Lynden, can decide if a journalist will agree to give evidence or will invoke the 'reporter's privilege' and refuse to testify.
Recalling its conclusions and assessments from May 2009, the Trial Chamber in its decision expresses "its concern about the manner in which the Accused
is employing his resources, while continuing to mention resource-limitations as an obstacle to his ongoing trial preparation". The Trial Chamber went on to advise Karadzic to manage his resources 'in a more productive manner' as the trial continues.
Karadzic has asked for no less than 12 hours for his cross-examination of Van Lynden.