Home
KORDIC'S REQUEST FOR EARLY RELEASE DISMISSED
ICTY president Patrick Robinson dismissed the motion filed by former Bosnian Croat leader Dario Kordic for early release. Kordic served half of his prison sentence for crimes in the Lasva Valley in Central Bosnia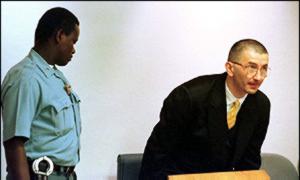 Dario Kordic in the courtroom
The Tribunal's president Patrick Robinson dismissed the motion for early release filed by Dario Kordic, who is serving a 25-year sentence in an Austrian prison for the massacre of Muslims in the village of Ahmici and other crimes in the Lasva Valley.
Kordic filed his motion under the Austrian law which allows early release of prisoners after they have served half of their prison sentence. Kordic had done so in April 2010 but in his case, as with all the other persons convicted by the Tribunal, the Tribunal has to approve their early release. The Tribunal oversees the serving of the sentences in countries that signed agreements to provide their prison capacities.
The gravity of crimes is the key reason for rejecting Kordic's motion. The decision quotes from the Trial Chamber's judgment: the crimes were committed with 'the intent that led to the persecution and ethnic cleansing of Bosnian Muslims from the Lasva Valley and neighboring areas', and 'to a persistent campaign in which numerous villages and towns were cruelly and brutally attacked; the age of victims didn't make any difference'.
The Trial Chamber concluded in its judgment that 'criminal acts on such level of barbarism couldn't be more serious and those who took part in them should expect adequate sentences reflecting the indignation of the international community'.
Taking notice of the reports received from the Austrian prison management on Kordic's 'good behavior' and 'very good' marks he received for his work in the prison laundry, President Robinson focused on three violations of prison discipline described in the report. The disciplinary breaches resulted in the 'prohibition of contact' and 'requisition of items' and, in the Tribunal's view, they cast doubts on the full rehabilitation of the convict.
In 2004, the Appeals Chamber sentenced Dario Kordic to 25 years in prison. In their final judgment, the appellate judges noted that Kordic, a leading Bosnian Croat politician, planned the attack on the village of Ahmici on 16 April 1993. More than a hundred Bosniak civilians were killed in the attack.
In late April 2010, the Tribunal dismissed the motion for early release filed by Mladjo Radic, former guard shift commander in the Omarska prison camp, serving a 20-year sentence in France. In Radic's case, the main argument against his early release was the cruelty and gravity of his crimes. Both Kordic and Radic will have to serve at least two thirds of their sentences before they can again ask for early release.