Home
PROSECUTION: FRANKO SIMATOVIC IS INTIMIDATING WITNESSES
The prosecution's response to Stanisic's motion asking leave to spend the one-month break in the trial in Belgrade was disclosed today. The Trial Chamber 'can no longer be satisfied that the accused will not pose a danger to witnesses and victims, if granted provisional release', the prosecution argues in its response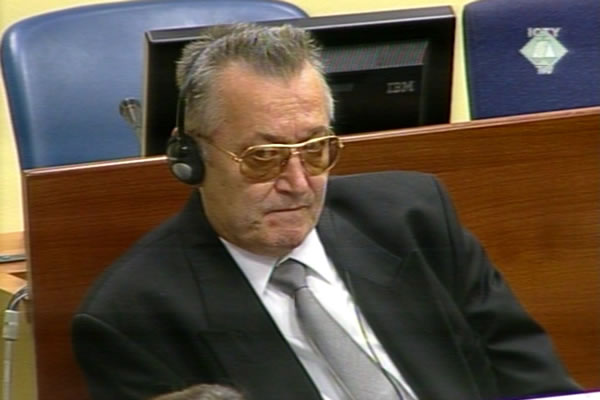 Franko Simatović u sudnici Tribunala
The prosecution noted that it had 'credible information' that a prosecution witness has recently been intimidated. Adding that there were 'strong and reasonable" indications linking Franko Simatovic to those acts of intimidation, the prosecution 'strongly opposes' the motion of the accused to be provisionally released during the break in the trial from 15 March to 12 April 2010.
The prosecution response adds that the Trial Chamber could no longer be satisfied that the accused Simatovic 'will not pose a danger to witnesses and victims' during his provisional release. This is one of crucial conditions for granting provisional release.
The prosecution attached five confidential annexes to the response made public today. The annexes contain statements of two investigators and other information on purported intimidation of the witness with the pseudonym JF-049.
Yet another reason to dismiss Stanisic's motion, the prosecution notes, is the progress made during the past months at the trial of the former chiefs of the Serbian State Security. The prosecution contends that in the past several months it has called evidence clearly showing the responsibility of the accused, a fact that may influence their willingness to return to The Hague when the trial continues. The former chiefs of the Serbian State Security Service are charged with the crimes of police and paramilitary forces in Croatia and BH from 1991 to 1995.
The prosecution urged the Trial Chamber to either dismiss Simatovic's motion or alternatively to schedule a hearing to hear witness JF-049. At the hearing, the witness would give evidence via video link 'on recent acts of intimidation'. If the Trial Chamber grants Simatovic provisional release, the implementation of the decision should be stayed until the prosecution decides whether it wants to appeal against the decision.