Home
GENERAL WITH CIVILIAN POWERS
Former HV officer Ivica Lukovic claims that after Operation Storm Ivan Cermak had no power over the military and civilian police. The sixth witness to be called by the accused general's defense further bolstered the defense case noting that, as the commander of the Knin Garrison, Cermak dealt with municipal issues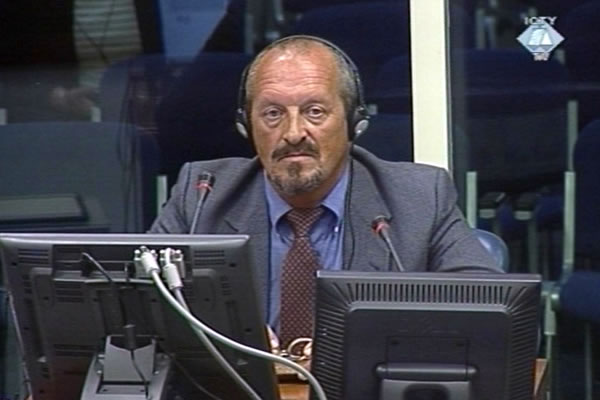 Ivica Luković, svjedok odbrane Ivana Čermaka
As Ivan Cermak's defense case continues, Ivica Lukovic, former head of the HV Office for Cooperation with the UN Mission, gave evidence. Defense counsel Steven Kay asked for the statement the witness gave to the OTP investigators in 2004 to be admitted into evidence. Lukovic's other statement, the one gave to the defense in 2009, was later also admitted into evidence.
In the summary of the statements read in the courtroom, the defense notes that Ivan Cermak as the commander of the Knin Garrison after Operation Storm helped civilian authorities in their effort to normalize life in the town. In order to achieve that, Lukovic recounted, it was necessary to fix the telephone and electronic infrastructure, water supply system, sewage and everything else that the Serbs 'had destroyed before leaving'.
In addition to dealing with municipal problems, Cermak was in constant contact with the UN mission and representatives of other international organizations in Knin. He would meet their demands, the witness said in his statement. When Cermak received complaints from international observers about widespread looting and burning of Serb houses in Krajina, he forwarded the information to the civilian and military police. However, as Lukovic recounted, Cermak could not order them to do anything because he had had no power over them.
The witness thus confirmed the key defense argument: the accused general didn't have a classic military function after Operation Storm, but dealt mostly with civilian issues. Cermak is charged together with generals Gotovina and Markac for crimes committed by the Croatian Army and police in Krajina in the summer and fall of 1995.
In the cross-examination, the prosecutor asked the witness what he saw when he arrived in Knin on 5 August 1995. There were no signs of any crimes in the town, the witness said. Only one house was on fire, because it had been hit by a shell, the witness claimed; he saw the consequences of the artillery attack in just two more places.
The prosecutor then asked Lukovic if he, as the liaison officer between the HV and the UN mission, knew that international observers complained about restrictions to their freedom of movement. The international observers thought that the Croatian military authorities were doing that to prevent them from seeing what was going on in the liberated territory and not for their safety, as the official version had it. The witness said he had no information to that effect. If that had been the case, the witness noted, it would have 'compromised the entire Croatian Army'.
Lukovic completed his evidence today. The trial of three Croatian generals continues on Monday.