Home
CIVIL COMMANDER IN A MILITARY UNIFORM
Gordan Radin, who served as Tudjman's chef de cabinet, contends that Tudjman wanted to appoint Ivan Cermak as civilian commander in Knin after Operation Storm. As it was not possible to do so under the law, Cermak was appointed military commander of the Knin Garrison 'with a civilian task to normalize the situation in the town'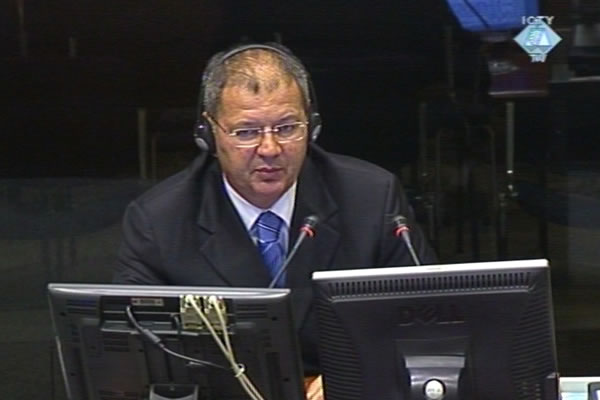 Gordan Radin, svjedok odbrane Ivana Čermaka
Goran Radin, who served as Tudjman's chef de cabinet while Hrvoje Sarinic was his chief of staff, testified today as General Ivan Cermak's defense witness. Radin's statement to the defense was admitted into evidence and the defense counsel read out a summary for the record. In his statement, the witness describes how General Cermak came to be appointed commander of the Knin Garrison.
In his statement Radin says that on the first day of Operation Storm, on 4 August 1995, President Franjo Tudjman asked him to locate Ivan Cermak whom he wanted to send to Knin as 'a civilian commander'. When the president was asked what he meant, Radin recounted, he replied that it was a role of 'a military commander tasked with normalizing civilian life'.
As there were no legal grounds to appoint Cermak to a post as per Tudjman's instructions, Radin found an alternative solution with the people from the president's military cabinet. Cermak was appointed the commander of the Knin Garrison: this was 'an appointment within the regular military system aimed at covering very specific civilian demands', the witness contended. Radin's claims corroborate the defense argument that Cermak was not a military commander in the classic sense, with jurisdiction over the HV units in the Knin area. Cermak is on trial with generals Gotovina and Markac for crimes against Serbs during and after Operation Storm in August 1995.
As Cermak's defense counsel didn't ask the witness any additional questions, Ante Gotovina's defense proceeded to cross-examine the witness. When he was asked how President Tudjman reacted to the international community's complaints about frequent attacks on Serbs and their property after Operation Storm, Radin said that Tudjman was 'irritated, and wanted it to stop'. As a staffer in the president's office he never heard that there was a plan to expel Serbs from Krajina, the witness claimed.
In Radin's cross-examination the prosecution implied that Cermak had a double role in Knin: on one hand Cermak's task was to normalize the civilian life, and on the other he did military tasks in his capacity as the Knin Garrison commander. The witness agreed in part, noting that he was not aware that a garrison commander could exercise command over HV units in the field and maintain order and discipline among the soldiers. Tudjman, the witness claimed, wanted to appoint to that duty 'a capable business person' who could bring the situation back to normal as soon as possible. In the end, Tudjman was forced to send in a 'man in the uniform' because he knew it would help him deal with the problems more easily in the conditions that prevailed after the war.