Home
GOTOVINA'S MILITARY WITNESS ON 'ASSUMED FACTS'
British general Timothy Cross has concluded, based on the 'assumed facts' provided by General Ante Gotovina's defense that it was difficult to prevent crimes against Serbs and their property. Cross nevertheless admitted that had he had different 'assumed facts' his conclusions would have been different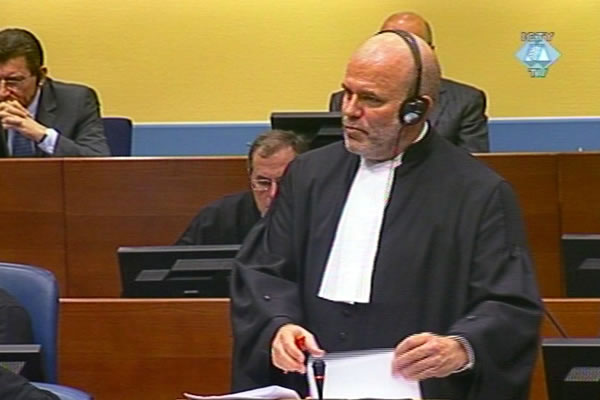 Greg Kehoe, branilac Ante Gotovine
In their effort to prove that General Ante Gotovina could not have prevented the crimes in the liberated area in early August 1995 in Operation Storm, Gotovina's defense counsel called British general Timothy Cross as their military expert for post-conflict situations. Cross drafted a report where he primarily describes his experience in peace missions in Northern Ireland, Iraq and in Kosovo. In his conclusions, Cross briefly mentions the situation in Krajina in 1995. The report was tendered into evidence today.
Cross said that chaos was 'immanent' in post-conflict situations; in recently pacified areas one could expect an increase in crime, difficult to prevent in the first few weeks. Cross mentioned Kosovo: in 1999 when NATO troops arrived, it was difficult to prevent the returning civilians from exacting revenge and to prevent criminal groups often linked with the KLA from operating there. Similar chaos ensued following the occupation of Iraq by the allied forces.
When the presiding judge insisted that the situation in other countries was less important for future findings of the Trial Chamber, defense counsel Kehoe asked the British generals a number of questions about the second part of the report. Based on the 'assumed facts' provided by the defense, the British general offered several conclusions on the situation in Krajina. On the basis of the 'assumption' that the preparations for Operation Storm took only a week, Cross concluded that it was impossible to come up with a good plan for establishing peace and rule of law after the liberation of Krajina in such a short time. Cross also claimed that a force of approximately 1,000 military policemen and 3,500 civilian police officers listed in 'assumed facts' was inadequate to prevent the chaos caused by the arrival of thousands of civilians in the liberated area.
When prosecutor Hederali asked the witness if his conclusion would have been different had he been given different facts about the situation in Krajina after Operation Storm, Cross confirmed it. The prosecutor also noted that both in Iraq and in Kosovo the allied forces and KFOR troops were trying to calm the situation down. In Krajina, according to the evidence given by numerous prosecution witnesses, the Croatian soldiers took part in the looting, burning down of abandoned houses and other crimes. Gotovina's military expert admitted that he would have 'changed a little' his conclusions if those elements had been among the assumed facts.
The trial of generals Gotovina, Cermak and Markac continues tomorrow with a brief hearing on administrative issues. The three-week summer recess at the Tribunal begins next week.