Home
MARTIC'S CRIMES AT STANISIC AND SIMATOVIC TRIAL
At the Stanisic and Simatovic trial, survivor Jasna Denona testifies about a massacre in which ten residents of the village of Bruska were killed in December 1991. The presiding judge says the hearing today was a 'waste of time' as the witness merely repeated what she had already said in her statement to the OTP investigators and in her evidence at the trials of Slobodan Milosevic and Milan Martic. The judge's criticism was mainly directed at the defense who had insisted on the witness's presence in court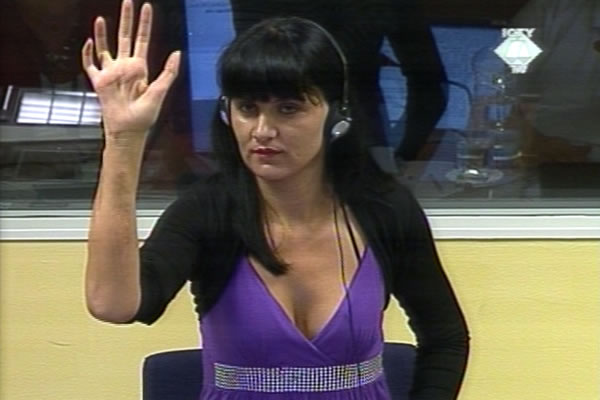 Jasna Denona, svjedok na suđenju Jovici Stanišiću i Franku Simatoviću
The trial of former chiefs of Serbian State Security Service Jovica Stanisic and Franko Simatovic continued today with the evidence of Jasna Denona from Marinovici, a hamlet in Krajina near the village of Bruska and Benkovac. On 21 December 1991, Denona was wounded in an attack. Ten of her neighbors and relatives were killed. The crime was committed by members of Martic's police, or Martic's men as they were called, the witness said. The indictment lists Martic's men as a group operating from 1991 to 1995 under the control of the two accused.
Jasna Denona already testified about the incident at the trials of former Serbian president Slobodan Milosevic and former RSK president Milan Martic. The transcripts of her evidence and the statement she gave to the OTP investigators in November 2000 were tendered into evidence. Prosecutor Doris Brehmeier Metz asked Denona some additional questions.
In the evening of 21 November 1991, the witness recounted, she was sitting in her house with her mother and three neighbors when some men she didn't know knocked on the door and told her to open it. When she asked 'who is it' they replied 'Krajina police, Martic's men'. Denona and her mother fled through back door. Her neighbor Dragan Marinovic opened the door. As she fled, the witness was shot twice, in the hip and right arm. She has not regained full use of the arm. Denona hid for a while and then returned to the village where she found ten dead relatives and neighbors. One of them was a Serb, Sveto Draca. The remaining nine were all from the Marinovic family. Four of them were women.
Stanisic's defense had initially indicated it would cross-examine, but in the end decided not to do it, and Simatovic's defense counsel asked the witness just a couple of questions. Presiding judge Alphons Orie was prompted to react, reminding the defense that the witness travelled 2,000 km because they had wanted to cross-examine her. Thirty people spent more than hour and a half in the courtroom to allow Simatovic's defense to prove, in the few minutes it took to ask the questions, that the JNA was present in the Benkovac area: the prosecution is not contesting the claim, Orie went to say. He then urged both parties to avoid similar situations in the future. According to the Tribunal's Rules on Evidence and Procedure, if there is no need for the cross-examination, witnesses' statements and previous testimony may be admitted into evidence and they don't have to appear in the courtroom at all.
The first-accused Jovica Stanisic again didn't appear in the courtroom; he didn't follow the trial via video link, although he had been declared fit for trial by the doctors. Stanisic still claims he can't take part in the proceedings in any way because of his ill health and the trial has continued in his absence.