Home
PROSECUTION WITNESS CONFIRMS DEFENSE ARGUMENT
The trial of former Serbian state security service chiefs continues in the absence of first-accused Jovica Stanisic. While the hearing for the most part proceeded in closed session, in the part of his testimony open to the public a protected prosecution witness confirmed some elements of the defense case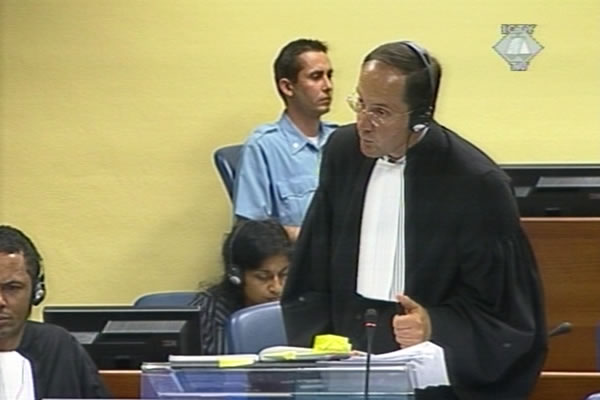 Geert-Jan Knoops, branilac Jovice Stanišića
Today, Jovica Stanisic notified the court from the Detention Unit that he was 'not feeling well', that he didn't want to follow the trial via video link and that he didn't waive his right to attend the trial. On the other hand, the Detention Unit doctor told the judges that the medical condition of the accused hadn't changed since yesterday when he was declared fit to stand trial – either from the dock, for shorter periods of time, or from the detention unit via video link. The Trial Chamber therefore decided as it had yesterday to proceed with the trial.
The cross-examination of the first prosecution witness testifying under pseudonym C-15 and with image and voice distortion as protective measures proceeded for the most part in closed session, as had his examination-in chief yesterday. In parts of the hearing open to the public, the witness for the most part confirmed some elements of the defence case.
At the time relevant for the indictment, the witness was first a member of the Territorial Defense, and later joined the police of the so-called SAO Slavonia, Baranja and Western Srem. He confirmed that the local TO units and volunteers from Serbia were under the command of the JNA during the conflict in 1991. Arkan's Serb Volunteer Guard was also under the command of the JNA although Arkan, as the witness described, had been 'a loose cannon' and 'nobody could exercise command over him'.
[IMAGE]4205[/IMAGE]When the defense counsel put it to him that 'individuals abused the uniforms and insignia', the witness confirmed it, adding that he didn't have any knowledge about the Red Berets, as Serbian State Security Service units were known, operating in that territory in 1991 and 1992. However, some units of the local Territorial Defense and police wore red berets, the witness explained. The witness also agreed with the defense counsel that some local officials set up their own 'private units'; he mentioned the Scorpions, which were formed and used by Milan Milanovic Mrgud, as an example. Mrgud misrepresented himself as an agent of the 'service', the witness said, confirming yet another defense argument. In fact, the witness clarified, Mrgud worked 'for himself and his family' and now he is to be tried for that. The witness said in his statement that a man by the name of Ilija Kojic 'formed State Security units', and the defense counsel asked him if he was talking about 'the Krajina state security'. The witness confirmed this.
The prosecution has charged Jovica Stanisic and Franko Simatovic for 'organizing, training, funding, equipping and control of members of special units of the Serbian State Security Service'. Among them are various purportedly paramilitary units, from Arkan's men to Scorpions that perpetrated grave crimes in Croatia and BH, all in the name of 'protecting the interests of Serbia and Serbs outside Serbia'.
The trial of former Serbian State Security Service chiefs continues on Monday, 6 July 2009.