Home
CLEARING UP THE GROUND FOR KARADZIC TRIAL
At the status conference in the case against the former Republika Srpska president Radovan Karadzic, pre-trial judge Bonomy has indicated that the Trial Chamber would soon rule on the pending motions filed by the accused on the jurisdiction and form of the indictment. Karadzic has been given a deadline to file his new motion on 'immunity': 25 May 2009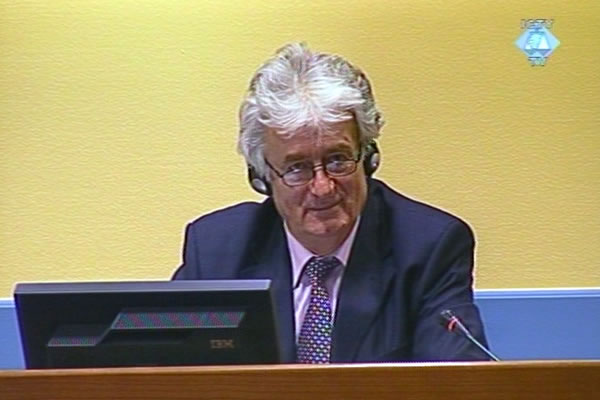 Radovan Karadžić u sudnici Tribunala
The Trial Chamber with Judge Bonomy presiding is rapidly clearing the ground for the trial of former Republika Srpska president Radovan Karadzic to start. Karadzic is charged with double genocide and other crimes during the war in BH.
Last week the Trial Chamber dismissed five and partially granted one of Karadzic's preliminary motions on the jurisdiction issue; at the status conference today, the Trial Chamber dismissed the motion in which Karadzic invoked the 'equality of arms' and asked that the prosecution's access to the media be restricted in the same way as his was by the ICTY Registrar. Labeling the motion as 'inappropriate', Judge Bonomy advised Karadzic and his team of legal advisors to focus on serious matters in future. At the judge's suggestion, Karadzic withdrew his motion for the dismissal of the preliminary prosecution pre-trial brief. The motion on confidential decisions from other cases was also dismissed as irrelevant.
Before the Trial Chamber reaches its decision on Karadzic's motion on 'multiple joint criminal enterprise' he is charged with, Judge Bonomy has asked the prosecution to provide additional clarification on the relationship between 'the comprehensive criminal enterprise' aimed at the elimination of non-Serbs from large swaths of the BH territory and three other criminal enterprises mentioned in the indictment: the terror campaign against Sarajevo, genocide in Srebrenica and using UN staff as hostages and human shields. As Judge Bonomy noted, the Trial Chamber will likely deliver its decisions on this motion and Karadzic's motion to drop the charges because of 'abuse of process' –the search of the houses belonging to his wife and his relatives in December 2008 and 2009 – next week.
Finally, Karadzic was ordered today to submit not later than 25 May 2009 a new motion on 'immunity', allegedly granted to him by Richard Holbrook in June 1996. Karadzic filed his first motion on that issue immediately upon his transfer to The Hague in July 2008. Karadzic then requested that the motion remain pending until he conducted a 'thorough investigation' to collect evidence to corroborate his claims. Karadzic says he has obtained some evidence in the meantime. Today Judge Bonomy advised Karadzic to base his motion on the assumption that he had evidence of Holbrooke's promise and then to present a detailed legal argument as to why such promises would be binding for the International Tribunal and would compel it to grant Karadzic immunity from charges of genocide and crimes against humanity.
The next status conference in the Karadzic case has been scheduled for 3 June 2009.