Home
PROSECUTION RESTS ITS CASE AT OPERATION STORM TRIAL
After almost one year and 78 witnesses, the prosecution has rested its case at the trial of Croatian generals Gotovina, Cermak and Markac. The hearing on motions to acquit the accused on some or all counts in the indictment is scheduled to take place from 19 to 25 March 2009. The defense called for a three-month adjournment of the trial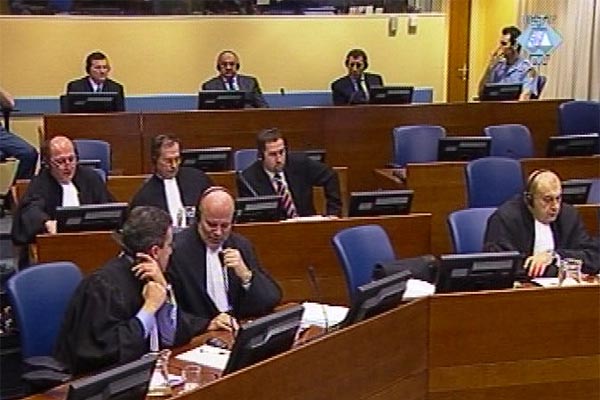 Ante Gotovina, Ivan Cermak and Mladen Markac in the courtroom
The prosecution rested its case today at the trial of Croatian generals Gotovina, Cermak and Markac after deciding not to call five more witnesses to testify about the authenticity of the Brijuni transcripts. Gotovina, Cermak and Markac are charged with crimes committed in Operation Storm and in its aftermath.
The trial of the Croatian generals
opened
on 11 March 2008. The prosecution called 78 witnesses. Most of them were members of the UN peace-keeping mission and the EU monitoring mission and other representatives of the international community. In August 1995, they were in Krajina witnessing, as they contended, crimes against Serb civilians and their property. The prosecution also called a number of Krajina Serbs who were either eye witnesses or victims of crimes committed in Operation Storm and after it. Some prosecution witnesses were insiders from the Croatian police and army: Mate Lausic, former chief of the military police, Vladimir Gojanovic, former Croatian Army soldier and two commanders of the anti-terrorist Lucko unit, Josip Turkalj and Josip Celic.
At the hearings yesterday and today, the Trial Chamber admitted into evidence a series of documents, including the statements the accused generals Ivan Cermak and Mladen Markac gave as suspects and a report of the Croatian Helsinki Committee,
Military Operation Storm and its Aftermath
.
Pursuant to Rule 98
bis
of the ICTY Rules of Procedure and Evidence, the defense of the three accused may, after the prosecution has rested its case, submit their motions for the acquittal of their clients on counts in the indictment the prosecution has failed to prove. The hearing on those motions of the defense teams, if they file them, will be held sometime in the week from 19 to 25 March 2009.
The defense teams of the Croatian generals today submitted a joint motion asking for a 90-day adjournment of the trial. A three-month break in the process, according to them, would make it possible for them to investigate in more detail the allegations about 189 murders. This allegation was included in the amended indictment against Gotovina, Cermak and Markac granted by the Trial Chamber in early March 2009.