Home
WITNESS: SHELLS WERE FIRED BY A 'DISCIPLINED ARMY'
Former artillery chief in the Split Military District Marko Rajcic contends the documents he drafted before Operation Storm envisaged the shelling of military targets in towns and villages in Knin area. In his opinion, the plans were complied with because the 'army was disciplined'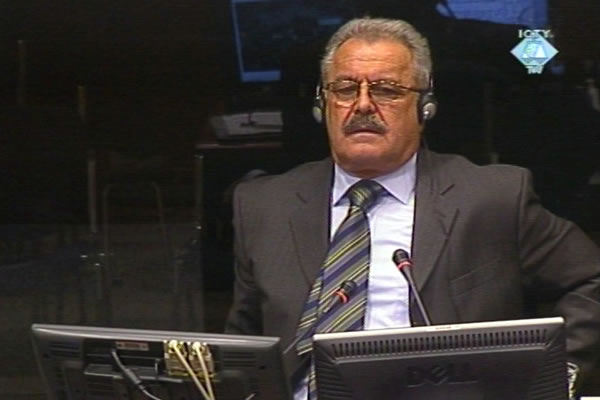 Marko Rajčić, svjedok na suđenju Anti Gotovini, Ivanu Čermaku i Mladenu Markaču
In his evidence at the trial of Croatian generals Ante Gotovina, Ivan Cermak and Mladen Markac, former artillery chief in the Split Military District Marko Rajcic spoke about the shelling of towns of Benkovac, Obrovac and Gracac near Knin in Operation Storm, in early August 1995. The indictment against the three generals charges them with the shelling of towns and villages in Krajina whose objective was to frighten the civilians and make them flee.
In Benkovac, the plan he drafted envisaged the shelling of two barracks, a police station and an intersection; in Obrovac only one intersection outside of the town was the target, the witness said. When asked if plans were implemented, Brigadier Rajcic replied that the targets were selected at the level of brigades and operations groups and not only the Military District. He believes he would have been informed if the plans had not been complied with because 'the army was disciplined'.
The shelling of Gracac, the witness argued, was not within the jurisdiction of the army but of the police. In a meeting in Zadar on the morning of 3 August 1995, General Gotovina ordered him to use some artillery elements for that purpose and to dispatch them to the special police units under the command of General Markac, who was also present at the meeting. Several foreign observers who have already given evidence at the trial maintained that Gracac had been heavily shelled in the early days of Operation Storm. Contrary to that, Rajcic argued that in the town itself there were no targets 'that would result in any military advantage'.
The second part of today's hearing was devoted mostly to 'geographical issues'. The witness marked on a map of Knin the targets that, as far as he knew, were shelled by the Croatian artillery on 4 and 5 August 1995. Those targets included the barracks, bridges, key intersections in the town, SVK Main Staff and the communications center, the defense ministry and the RSK police building.
The trial of generals Gotovina, Cermak and Markac continues tomorrow. The prosecution indicated that the examination-in chief of this witness would not be completed before Monday.