Home
KARADZIC: 'THIS TRIBUNAL HAS NO RIGHT TO TRY ME'
Former Republika Srpska president refused to enter his plea on the amended indictment. As he put it, he is 'challenging the indictment based on my agreement with the international community represented by Richard Holbrooke'. Judge Bonomy proceeded to enter a plea of not guilty on Karadzic's behalf to all eleven counts in the indictment and called the ICTY Registrar to schedule the beginning of the trial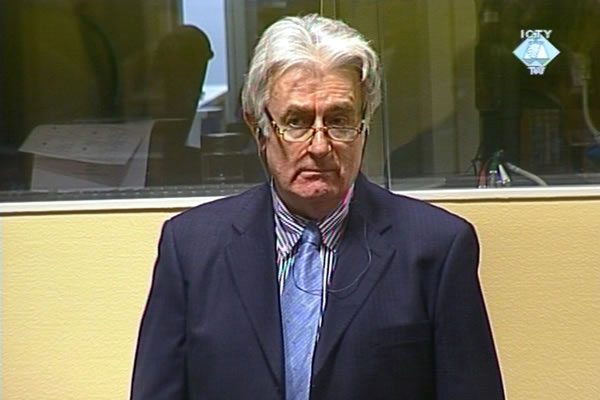 Radovan Karadžić u sudnici Tribunala
Just as he had on two previous occasions after his transfer to the UN Detention Unit in The Hague, Radovan Karadzic today again refused to enter his plea on the charges of genocide and other war crimes in Bosnia Herzegovina. In accordance with the rules, the pre-trial judge Bonomy then instructed the ICTY Registrar to enter a plea of not guilty on Karadzic's behalf to all eleven counts in the indictment. The judge completed the ten-minute hearing today with the order to the Registrar to schedule the beginning of the trial
At his initial appearance before the Tribunal on 31 July 2008, Karadzic exercised his right to postpone his plea by 30 days. However, at his second appearance on 29 August 2008 he refused to enter his plea because of his 'attitude toward the Tribunal', as he explained. The Tribunal, Karadzic claimed, 'is misrepresenting itself as a tribunal of the international community but is in fact a NATO court'. Today Karadzic said he contested the indictment because of his 'agreement with the international community and its representative Richard Holbrooke'. He is thus 'defending the basic principle that wars cannot be ended and peace established in a deceitful way', Karadzic added. When he tried to make another comment, Judge Bonomy turned off his microphone, inviting him instead to enter his plea on the first count of genocide.
Karadzic replied saying that he 'will not enter a plea at all' because, 'this court has no right to try me'. After that Judge Bonomy entered a plea on Karadzic's behalf.
The third indictment charges Karadzic with double genocide – in ten BH municipalities in 1992 and in Srebrenica in 1995 - and with persecution on political, ethnic and religious grounds, extermination, murder, deportation, forcible transfer, terror campaign against Sarajevo citizens, illegal attacks against civilians, taking UN members hostage and using them as human shields in May and June 1995.
Today Karadzic repeated he was adamant he wanted to defend himself with the assistance of legal advisors. The trial might, as anticipated, open in July 2009.