Home
WAS GENERAL CERMAK 'ARROGANT' OR 'POWERLESS'?
Mikhail Ermolaev, former acting chief UN military observer claims that general Cermak 'arrogantly denied' reports and protests of the international observers relating to violations of human rights of Krajina Serbs in August 1995. The defense notes that Cermak didn't have authority over the police or control over the whole Krajina territory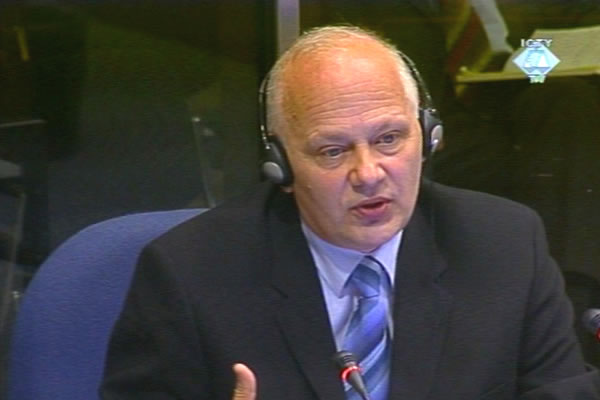 Mikhail Ermolaev, witness in the Gotovina trial
From July to October 1995, Russian Navy captain Mikhail Ermolaev was first deputy chief UN military observer and acting chief in Krajina. When Operation Storm began, he was in his apartment in Knin. In his statement to the OTP investigators, he says his flat was hit in an 'unprecedented' artillery attack on the town with tens of thousands of civilian inhabitants.
The first few days after the Croatian Army entered Knin, the witness explained, the UN military observers were blocked inside their base and were not allowed to move around. After that there was a period of 'strictly restricted movement'. As a military observer during the war in BH he never had full power of movement, but the movement was never so restricted as it was in Krajina in August 1995. The witness lays blame for this on General Ivan Cermak whom he considers the commander of Sector South and the man who controlled the situation in the whole Krajina area.
According to the Russian captain, military observers went out into the field as much as they could. Until early September, they registered numerous violations of human rights of Krajina Serbs, mostly murders, arson, expulsion and looting. They reported this to the UNHRAT teams and to Cermak's office. In his statement, the witness notes that from the very first meeting with the UN representatives on 6 or 7 August 1995, General Cermak 'arrogantly denied' the protests of the international civilian and military observers.
In his cross-examination, Cermak's defense counsel put it to the witness that the accused general was the commander of the Knin Garrison and not the commander of the entire Sector South. In that role, Cermak didn't have any control over the police. Despite Cermak's explicit order granting the UN observers freedom of movement, the police prevented them from traveling through Krajina.
The witness didn't agree with this claim, saying that at the very first meeting he got the impression that Cermak controlled the whole of Sector South including the police units in the field. He came to this conclusion after Cermak assured the international representatives he would take various measures throughout Krajina, primarily those concerning the freedom of movement of the UN observers.
In his statement the Russian captain states that the Croatian authorities did nothing to prevent or stop the violence and crimes against Serbs in Krajina. In his view, apart from Cermak, General Gotovina bears most of the responsibility. General Gotovina's defense counsel indicated they would be cross-examining the witness. Mladen Markac's defense will be the last to question the witness.