Home
CIGARETTE CASE HELPS WITNESS RECOGNIZE HIS FATHER
Mile Sovilj recognized his father's 'decomposed and burned' dead body on a photo. His father had been killed in the village of Kijani near Gracac in Operation Storm. 'It was a picture painful to see', the witness said. When the shelling of Gracac began, he fled to Serbia. The defense notes that the evacuation of Serbian population from Krajina was planned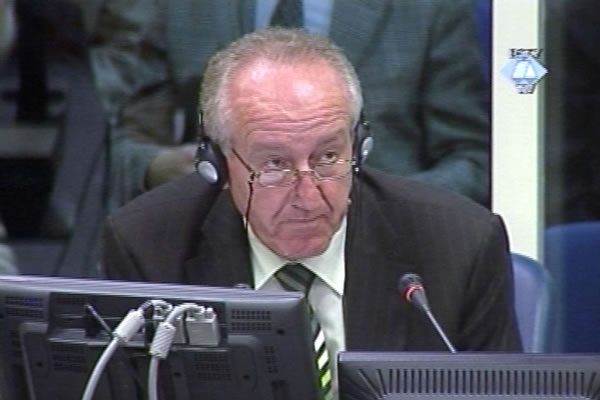 Mile Sovilj, witness in the Gotovina trial
Journalist Mile Sovilj was at his home when the shelling of Gracac, a town in Lika region, began in the early morning of 4 August 1995. Sovilj finally left his apartment at 4 p.m. for 'safety reasons'. By that time, he counted some fifteen explosions. He was 'able to tell those sounds from the sound of rifle shot'.
At the trial of Croatian generals Ante Gotovina, Ivan Cermak and Mladen Markac for crimes committed during Operation Storm and in its aftermath, Sovilj said that in the afternoon of that day he noticed people starting to leave Gracac. According to him, they were 'panicked, worried and without optimism on their faces'.
In his statement given to the OTP investigators in February 2007, Sovilj recounted that fourteen persons, including his father, were killed in the village of Kijani during Operation Storm. Their homes were burned down. The bodies were exhumed from a grave in 2004 and their identity was established by DNA analysis. Sovilj recognized his father on a photo he described as 'painful to see'. The body he saw was 'decomposed and burned down' but he managed to recognize his father by a cigarette case he had given him as a present two years before.
The witness was cross-examined only by Goran Mikulicic, defending Mladen Markac. Mikulicic noted that the evacuation of the Serbian population was 'planned several months before Operation Storm started'. The witness confirmed that the documents the defense counsel showed him pointed to that conclusion. He, however, was not aware of any evacuation plans. He regretted that the plan, if it existed, had not been implemented, because had that been the case, 'there would not have been so many casualties'.
Claiming that a 'large quantity of ammunition and weapons' was stored in the grain elevator, the defense counsel tried to prove that the shelling of Gracac was legitimate. Sovilj countered that claim, saying that the 'mill operated normally', adding that in fact the metal processing plant near the mill was used 'as an ammunition and weapons depot in the early days of the war'.
The cross-examination of the witness ended with the defense counsel quoting the titles of texts Sovilj wrote in 1991 for the War Bulletin of the Krajina Territorial Defense. As the defense counsel put it, in those texts Sovilj used 'the derogatory adjective Ustasha' twenty times when he described the Croatian state or army. He thus 'generated hatred against the Croatian population'. 'This was caused by the wartime atmosphere', Sovilj said, noting that 'Croatian side did the same.'
The trial of Gotovina, Cermak and Markac continues on Monday.