Home
VOJISLAV SESELJ TRIAL SUSPENDED
The trial of the Serbian Radical Party leader is suspended pending the decision of the ICTY president on the prosecution motion to disqualify Danish judge Frederik Harhoff. Seselj is on trial for crimes against humanity in Croatia, Vojvodina and Bosnia Herzegovina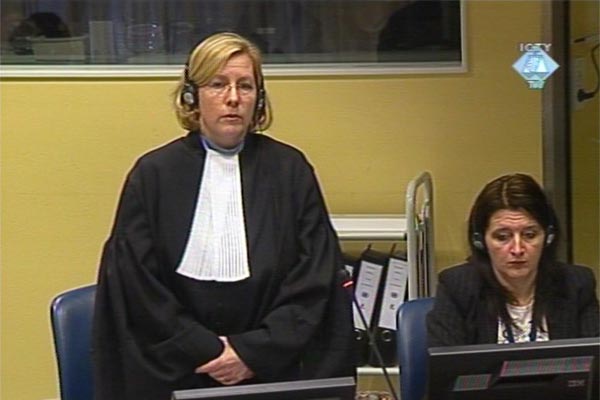 Christine Dahl, Prosecutor in V. Šešelj case
The trial of Vojislav Seselj has been temporarily suspended pending the decision of the ICTY president on the prosecution motion for the disqualification of Danish judge Frederik Harhoff from the Trial Chamber hearing the case against the Serbian Radical Party leader. Seselj is on trial for crimes against humanity in Croatia, Vojvodina and Bosnia Herzegovina.
The prosecution filed its motion at the trial yesterday, explaining that Judge Harhoff, who was a Danish Helsinki Committee activist in 1993, took part in interviewing Isak Gashi, who is due to testify as a prosecution witness in the Vojislav Seselj case. According to the prosecution, Harhoff was thus 'involved in the investigation' and couldn't 'sit as a judge in the same case'.
[IMAGE]3166[/IMAGE]Presiding judge Antonetti reported to the ICTY president on the prosecution motion, enclosing Judge Harhoff's statement and the transcript of yesterday's hearing. The prosecution issued a written statement of reasons for the motion. According to the Rules of Procedure and Evidence, the ICTY president can now appoint a three-member panel to conduct an enquiry or can decide himself to either grant or dismiss the motion for the disqualification of the judge. If the motion is granted, the ICTY president will appoint a new judge to replace Judge Harhoff.
At the beginning of the session today, the Trial Chamber ruled to dismiss the motion of the accused to ban the prosecution from presenting evidence about the incidents in four locations – Western Slavonia, Brcko, Bijeljina and Bosanski Samac. These four locations were deleted from the final version of the indictment against Vojislav Seselj on the orders of the Trial Chamber. The Trial Chamber confirmed its previous decision granting the prosecution to call evidence indicating a 'consistent pattern of conduct' on the part of the accused that pertains to the incidents in these locations too. Seselj today asked leave to appeal against this decision.
A new hearing has been scheduled for tomorrow afternoon. Its course will depend on the decision of the ICTY president regarding the Danish judge Harhoff.