Home
BELGRADE NOT FULLY COOPERATING WITH THE OFFICE OF THE PROSECUTOR
Denying the speculations in the Belgrade media that the forthcoming report by Carla del Ponte to the Security Council would be positive, OTP spokesperson notes that in the past six months no progress has been made in terms of arrests and access to documents and witnesses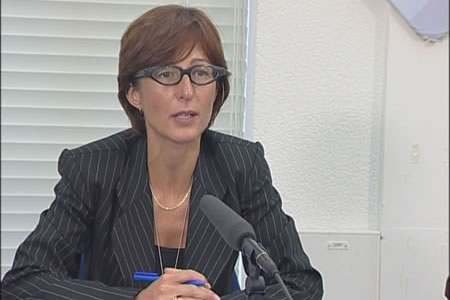 Florence Hartmann, spokesperson in the Tribunal
Over the weekend, there were reports in some Belgrade media that Chief Prosecutor Carla del Ponte would submit a positive report on Serbia's cooperation to the UN Security Council on 15 December – even if General Ratko Mladic is not handed over to the Tribunal by that date, provided that the prosecution gets some documents crucial for the Slobodan Milosevic trial. The OTP responded this afternoon.
The Office of the Prosecutor, as Florence Hartmann, its spokesperson, said today at the press conference, was "surprised by the speculations" from Belgrade about the positive report. Quite the contrary, Hartmann says, over the past six months – since the surrender of General Nebojsa Pavkovic to the Tribunal – "no progress has been made in terms of (the arrest and transfer of) the fugitives", and the prosecution still faces "serious obstacles in access to documents". According to the OTP spokesperson, the obstacles are mainly set by the SaM Army.
Carla del Ponte's top priority, her spokesperson said today, "has been and is the arrest of the remaining seven fugitives from international justice, including Radovan Karadzic and Ratko Mladic". Serbia's cooperation, as she said, "cannot be termed full until Belgrade has handed over Mladic and other fugitives accessible to it," and until "unrestricted access to documents and witnesses" is ensured.
Of course, Hartmann said in conclusion, Carla del Ponte's report to the Security Council will "take into account any serious progress" when it comes to the arrest of the fugitives and access to documents and witnesses made until 15 December 2005.