Home
"VUKOVAR THREE" SEEK A POSTPONEMENT
The defense counsel of the former JNA officers charged with the crimes against prisoners in Vukovar asks for more time to prepare the defense and proposes that the trial date set for October be postponed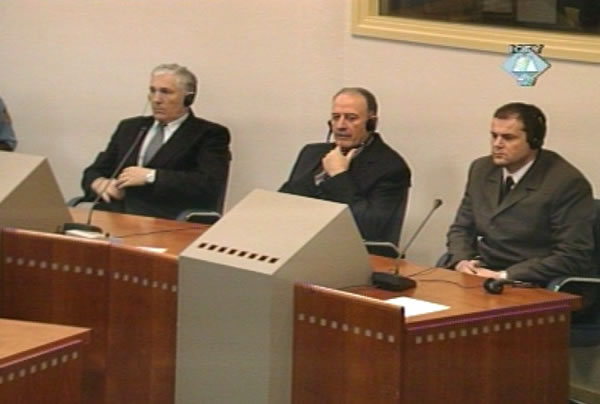 "Vukovar three" in the courtroom
The start of the trial of the Vukovar Three, scheduled for 3 October, might be postponed as the defense teams ask for more time to prepare for the trial.
At the status conference today, the defense counsel for Mile Mrksic, Miroslav Radic and Veselin Sljivancanin said that they had not had time to go through all of the new prosecution evidence, adding that a four to six week continuance might help them prepare more thoroughly for the trial.
"The defense is the last to blame for that," Sljivancanin's lawyer Novak Simic contends, adding that the Tribunal had until recently been deliberating whether to refer the case to national courts. During that periods, the preparations for trial went at a slower pace. Defense teams were today given seven days to file written motions for continuance, showing cause.
The decision to postpone the trial (opening statements have been scheduled to begin on 3 October and the first evidence to be presented on 11 October) will be made by Judge Kevin parker who will take on the case as the pre-trial judge and will preside over their trial.
The prosecutor announced they would be calling about 70 witnesses to testify in the courtroom and will tender about 18 depositions. The pre-trial judge estimated the prosecution would need about 25 weeks to present its case.
Three former JNA officers are charged with the execution of more than 200 prisoners taken from the Vukovar hospital after the town fell in November 1991.