Home
DEL PONTE WILL NOT GO TO SREBRENICA WITHOUT KARADZIC AND MLADIC
In an interview with the Swiss magazine L'Hebdo, Carla Del Ponte says she hopes to mark the 10th anniversary of the Srebrenica massacre "in The Hague, in the presence of Karadzic and Mladic". If they are not arrested by then, Del Ponte "will not attend any official commemoration, as a sign of protest"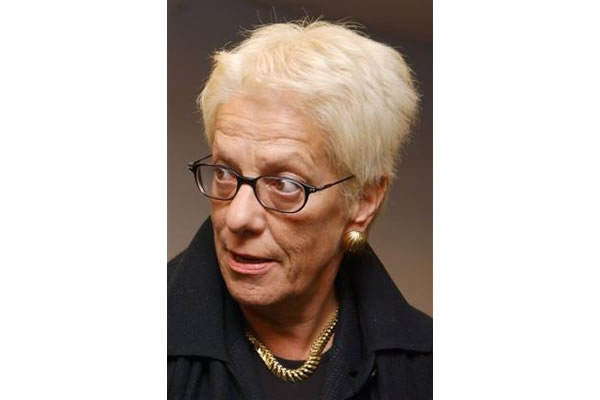 Carla Del Ponte
Chief Prosecutor Carla Del Ponte is very satisfied with the conduct of the government of Serbia and Montenegro, which "has realized that the cooperation with the Tribunal is one of the conditions for joining the European Union", as she said in an interview in the latest issue of a Swiss magazine, L'Hebdo.
She notes that twelve Serbian and Bosnian Serb indictees have surrendered since the beginning of this year. As far as she was concerned, it "does not matter if those were voluntary surrenders or camouflaged arrests – it's the result that counts." However, Del Ponte added that she expected the other indictees, including Karadzic and Mladic to follow.
As regards the Croatian general Ante Gotovina, one of the remaining fugitives, the Chief Prosecutor notes that he still has the status of a hero in his country. "I don't have the police to enforce my orders and I rely on the assistance of the states," she noted. "The case of Croatia is particularly sensitive. A year ago we presented a very favorable opinion of its cooperation, but there has been no progress since then."
When asked is she was planning to mark the tenth anniversary of the massacre in Srebrenica, Del Ponte said that she hoped she would commemorate it in The Hague with Karadzic and Mladic in attendance. "I've already said I would not attend any official ceremony as a sign of protest if Karadzic and Mladic are not arrested."
Del Ponte expects PM Kostunica and the Serbian police to locate and arrest Mladic, while she says she is not longer sure where Karadzic is: in Montenegro, Belgrade or Republika Srpska. The Chief Prosecutor was about to meet with the representatives of the NATO forces that remain in BH after the SFOR pull-out, tasked with finding the fugitives.