Home
SUBSTANTIAL "DISCOUNT" FOR GUILTY PLEA AND REPENTANCE
Ranko Cesic has been sentenced to 18 years in prison for ten murders and other serious crimes he pled guilty to - His guilty plea, repentance and cooperation with the prosecution have been accepted as "substantial mitigating factors"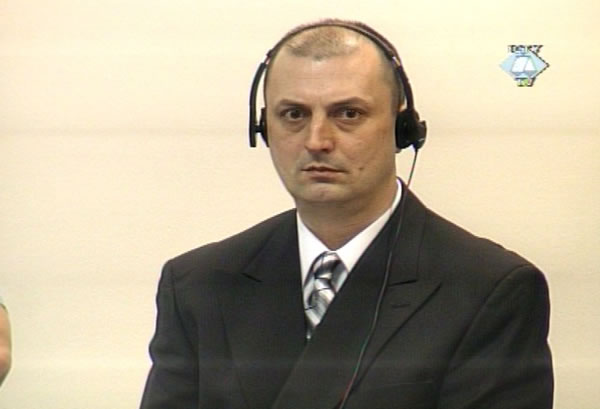 Ranko Cesic in the courtroom
Ranko Cesic, former member of the intervention police platoon in Brcko was sentenced today to 18 years in prison for the crimes he committed in May and June 1992 and to which he pled guilty last October as part of a plea agreement he reached with the prosecution.
On that occasion, Cesic pled guilty to ten murders and other crimes he committed, according to the indictment, from May to early June of 1992 in the Luka camp and the Partisan Sports Hall in Brcko, including forcing two brothers to commit sexual acts on each other. The vulnerability of the victims - the detainees, and the humiliating character and depravity of his acts were taken as "substantially aggravating circumstances", as presented in the statement of reasons of the judgment.
When the sentence was determined, the mitigating circumstances were given more weight, primarily the guilty plea, substantial cooperation with the prosecution and the remorse the accused expressed. "A guilty plea" – it is stated in the summary of he judgment read out today by Judge Alphonsus Orie – "helps establish the truth and may aid the process of reconciliation in the municipality of Brcko. More particularly, it may provide a sense of relief to the surviving victims and the victims relatives and friends."
Because Cesic pled guilty before the trial, the Tribunal saved "time, effort and resources" and the witnesses were spared the "possible trauma of reliving the events when testifying in court." All this, the judgment states, has made the judges decide to take Cesic's guilty plea as a "substantial mitigating factor."
The prosecution and defence together proposed a sentence of between 13 and 18 years in prison for Cesic. While they advocated the sentence of 13 years, the defence nevertheless waived their right to an appeal to any sentence within the proposed range. When the judges opted to impose a sentence at the top of the range, they saved the Tribunal another expensive and long appeal.