Home
SENSE DOCUMENTATION CENTER OPENS IN PULA
Opening ceremony for the SENSE documentation center for transitional justice was held in Pula in the presence of Serge Brammertz, the Chief Prosecutor of the ICTY and the war crimes prosecutors from Croatia, B-H and Serbia, representatives of the City of Pula and numerous guests from the region and the world.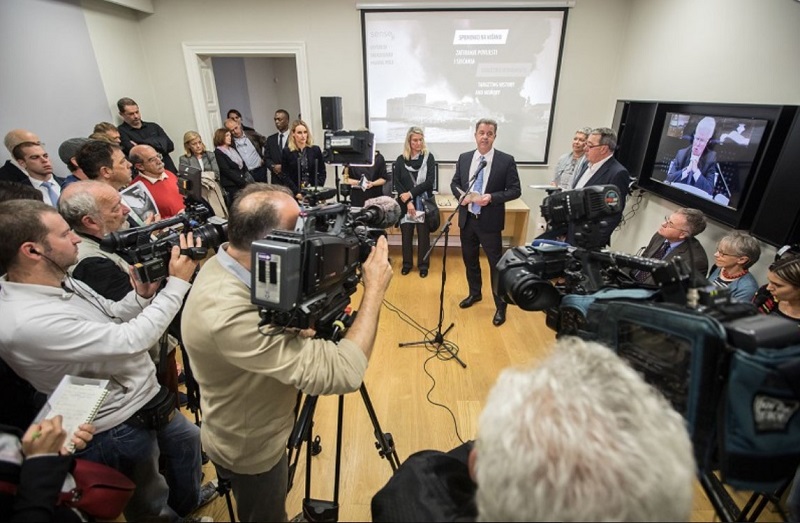 Opening of Sense Documentation Center in Pula, 13th October 2017
SENSE documentation center will be a unique place where the events that took place in the former Yugoslavia in the 1990's will be shown throughthe history of the trials before the ICTY, and SENSE's audio-visual archive about the work of the Tribunal will "tell a story" about the events that shaped the history of the former Yugoslavia, said the Chief Prosecutor of the International Criminal Tribunal for the Former Yugoslavia Serge Brammertz at the opening of the SENSE – Center for Transitional Justice in Pula.
On the same occasion, the exhibition called Targeting monuments has been opened at the Center's premises. The exhibition is based on the interactive narrative Targeting history and memory, produced by SENSE Center. The narrative elaborates how crimes against cultural, historic and religious heritage, committed during the wars in Croatia, Bosnia -Herzegovina and Kosovo in the 1990's, were investigated, reconstructed and prosecuted at the ICTY.
"This Center will enable the creation of the forum for the education of the future generations on the legacy of the trials before the Tribunal", said Brammertz.
In the past 18 years SENSE New Agency, which has transformed into SENSE Transitional Justice Center, published thousands of reports and analyses about the trials before the Tribunal, produced 722 weekly TV programmes, seven documentaries, four interactive narratives and collected the material for documentation centers in Srebrenica and Pristina. Its extensive archive will serve as a documentation, academic and educational center for the area of the whole former Yugoslavia.
In her address at the opening of the SENSE center, Pula deputy major Elena Puh Belci said that Pula's citizens are proud of the tolerance and coexistence in their town.
The war crimes prosecutors form Croatia, Bosnia-Herzegovina and Serbia were also present at the opening ceremony.
The destruction of cultural heritage, its prosecution, the problem of divided societies in South-East Europe and the education of the young about the issues were discussed at the international conference that took place a day later, on Saturday, at the premises of the SENSE center. It was organized as a joint project of five civil society organizations from Croatia, B-H, Serbia and the Netherlands, with the financial support of the EU's Remembrance - Europe for citizens - programme

"Justice cannot be done if you do not work together, if you do not resist the attempts to turn you into adversaries... Reconciliation and agreement on the recent past is needed more than ever", said Brammertz at the conference.
Photos