Home
WHO CAN(NOT) WRITE RATKO MLADIC'S JUDGMENT?
Ratko Mladic's defense notes that Mladic was for all intents and purposes convicted already when Radovan Karadzic's judgment was handed down in March 2016, warning the judges not to include legal advisers who worked with the chamber which convicted the former Republika Srpska president in the advisory team which will help Mladic's chamber decide on the general's guilt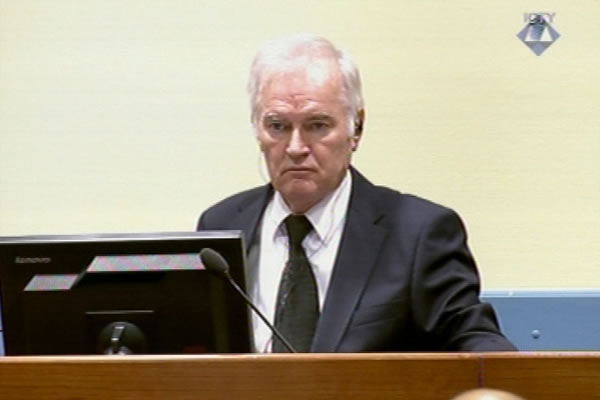 Ratko Mladic in the courtroom
The defense of the former Bosnian Serb Army Main Staff commander was alarmed to hear that some of the legal advisors who had been assisting the Trial Chamber that has recently convicted Radovan Karadzic have now been appointed to assist the judges deliberating on Ratko Mladic's guilt. Mladic's defense demands that Mladic be guaranteed a fair trial and the presumption of innocence; otherwise, the defense will call for a mistrial.
Given that the legal advisers had helped the judges analyze the evidence and draft Karadzic's judgment, they might now apply the same views in the case against Mladic, and could thus influence the judges.
According to Mladic's defense, the judgment rendered on 24 March 2016 in the Radovan Karadzic case for all intents and purposes served to convict Ratko Mladic too. The summary of the judgment mentions the general's name no less than 24 times, Mladic's defense notes. In Karadzic's judgment, the judges found that Mladic had participated in all the joint criminal enterprises Karadzic was convicted of. According to the trial judgment, Mladic shared Karadzic's goal which was to permanently eliminate Bosnian Muslims and Croats from the territories claimed by Serbs.
The right of the accused to a fair trial and the presumption of innocence was compromised when the legal advisors who had worked with the Karadzic trial judges were appointed to assist the Trial Chamber which will deliberate on Mladic's guilt.
The defense demands guarantees that Mladic's rights will be protected while the judges deliberate on the verdict, and insists on the formal confirmation that no legal advisors who had been involved in the Karadzic case would be appointed to Mladic's team. Mladic's lawyers also want the confirmation that the people who had worked on Karadzic's judgment have not discussed it with those who are working on Mladic's judgment.
Alternatively, the defense wants to see copies of documents signed by the legal advisors before their appointment to Mladic's Trial Chamber and a detailed description of all the efforts the Trial Chamber has made in this situation to safeguard the rights of the accused.
If this is not done, the defense will call for a mistrial because the chamber has already relied on the assistance of legal advisers who had worked on Karadzic's case.