Home
HOW WITNESSES IN VOJISLAV SESELJ'S CASE WERE MADE TO 'CHANGE THEIR MINDS'
Three officials of the Serbian Radical Party have been charged with contempt of court for threatening, intimidating, bribing and otherwise tampering with the witnesses in the case against Vojislav Seselj. Serbia has failed to execute the arrest warrant issued on 19 January 2015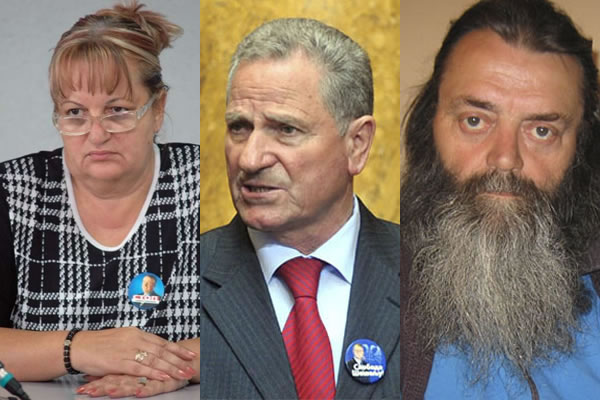 Vjerica Radeta, Petar Jojic i Jovo Ostojic
The contempt of court indictment issued on 19 January 2015 against three officials of the Serbian Radical Party, Petar Jojic, Jovo Ostojic and Vjerica Radeta, was unsealed today at the Tribunal. The three party officials are charged with threatening, intimidating, bribing and otherwise tampering with the witnesses in the case against Vojislav Seselj. The decision to unseal the document stresses the fact that Serbia has yet to comply with the order to arrest the three Radicals. The arrest warrant was issued at the same time as the indictment.
Petar Jojic and Vjerica Radeta are jurists and members of Seselj's legal team. Radeta is also a member of the Serbian Assembly from the SRS. The indictment describes Jovo Ostojic as a 'Chetnik vojvoda'. The tree Serbian Radicals are charged with using threats, intimidation and bribes to compel some of the witnesses who had been cooperating with the prosecution to switch sides and refuse to give evidence for the prosecution. The witnesses were also persuaded to refute their previous statements and to claim that the investigators had pressured them. Those witnesses then signed new statements that were dictated to them by the accused. The witnesses were also compelled to give false evidence at one of Seselj's contempt of court trials. According to the indictment made public today, the person in charge of coordinating the treatment of prodigal Radicals was Ljubisa Petkovic. In 2008, the former chief of the SRS War Staff was sentenced to four months in prison for contempt of court.
The identity of the witnesses has been redacted and the indictment unsealed today identifies them as witnesses 1, 2, 3, and 4. Witness 1 received a fee of 500 euros a month to 'switch sides'. Witness 2 received payments in the Serbian Radical Party headquarters but the amount has not been specified. Witness 4 was promised money and a meeting with Zoran Krasic and Aleksandar Vucic, who were the lead counsel in Seseslj's legal team.
The unsealing of the indictment and the arrest warrant that has not been executed are timed to coincide with the regular biannual report the Tribunal's President and the chief prosecutor submit to the UN Security Council. Judge Carmel Agius is expected to stress in his first presidential report to the UN Security Council the lack of cooperation on Serbia's part.