Home
OFFICIAL VS. SUBJECTIVE CONCLUSIONS ON MARKALE
Former assistant to Sergio de Mello testified at the trial of Ratko Mladic about the 'official' results of the investigation into the first Markale massacre. The witness also shared with the judges his own 'subjective' opinion about who was responsible for the 66 dead and more than 140 injured citizens of Sarajevo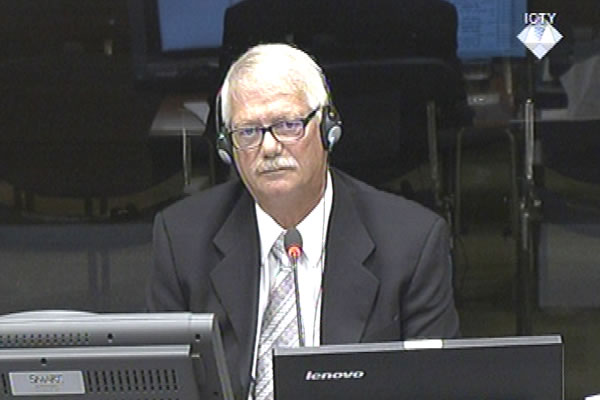 John Russell, defence witness at Rako Mladic trial
The trial of the former VRS Main Staff commander Ratko Mladic continued with the evidence of John Russell. The witness was an assistant to Sergio de Mello, head of the UN civilian mission in Sarajevo. Russell was involved in the investigation of the first massacre at the Markale town market in Sarajevo in February 1994, when a 120-mm mortar shell killed 66 and injured more than 140 Sarajevo citizens.
In the examination-in-chief Russell said that on 5 February 1994 in the afternoon he carried out a crime scene investigation at the site of the explosion. Russell established that it was 'impossible to determine which side had fired the deadly missile'. Soon after the investigation Russell heard the CNN report that the shell was fired from the Bosnian Serb positions. In Russell's opinion, that was a 'propaganda-based conclusion'. Russell noted in his diary that the 'Bosnian side fired the shell at its own people'. The defense tendered Russell's diary into evidence.
Judge Moloto asked Russell to explain how he was able to reach the conclusion he recorded in his diary on the basis the official report. In the official report, Russell concluded it was not possible to establish which side had fired the projectile, but then went on to blame the Bosnian side for the incident in his diary entry. The witness replied that the conclusion in his diary was his 'subjective opinion'.
Prosecutor Adam Weber noted that on the day before the Markale massacre Sergio de Mello met with Radovan Karadzic and protested against the Serb side's 'disproportionate fire' on Sarajevo. Karadzic agreed that the fire was disproportionate and promised to discuss the issue with General Stanislav Galic, commander of the Sarajevo-Romanija Corps. Although he had attended the meeting, Russell at first said that 'both sides opened fire at each other'. When the prosecutor confronted the witness with a number of UN military observers' reports the witness changed his mind. According to the UN military reports, in the short period from 19 to 24 December the Serb side fired 5,536 shells. Russell did admit that it was 'disproportionate' after all.
Russell confirmed that he used Soviet firing tables when he analyzed the Markale crater. The former JNA used different tables. Just as he had at Radovan Karadzic's trial, the witness once again confirmed that the shell that hit Markale could have been fired from a distance of between 900 meters and 4800 meters– depending on the explosive charge used.