Home
PROSECUTION RESTS TOMASICA CASE
At the trial of Ratko Mladic the prosecution rested its case on the Tomasica mass grave with the testimony of Ewa Tabeau. Since 22 June 2015, when the case was reopened, the prosecution has called eight witnesses, including six experts. Written statements of five other witnesses have been admitted into evidence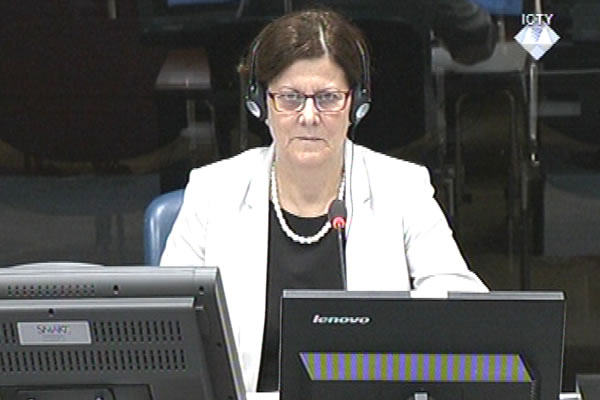 Ewa Tabeau, witness at Rako Mladic trial
In the expert report she wrote for the prosecution, demography expert Ewa Tabeau noted that the victims exhumed from the Tomasica mine died a 'violent death in very dramatic circumstances of an ethnic cleansing campaign in the Prijedor municipality'. In an attempt to contest the finding, Mladic's defense counsel Dragan Ivetic tried to get the witness to define ethnic cleansing and violent death.
Tabeau replied that she understood ethnic cleansing to mean 'actions directed at a population group' resulting in 'the extermination of that population'. Tabeau also confirmed that accidental death, suicide, justifiable homicide and homicide were all regarded as instances of violent death. Due to lack of information, Tabeau clarified, she was unable to distinguish between various types of violent death of the Tomasica victims.
Defense counsel Ivetic put it to her that the BH Army soldiers killed in combat 'are not victims of ethnic cleansing'. 'Combat is combat, and I wouldn't see them as victims of ethnic cleansing', Tabeau replied.
The defense counsel went on to contest the witness's credibility. The witness posted a comment on the LinkedIn social network saying that in March 2014 she returned to the OTP to help 'bring the last cases to end'. Tabeau confirmed that it had been her motive.
In the re-examination, prosecutor Silvia D'Ascoli referred to Ewa Tabeau's evidence from 2013, when she explained that whenever the sources she used to determine the cause of death indicated that a person had died in combat, that person was excluded from the victims' list. She confirmed that none of the persons exhumed from Tomasica and Jakarina Kosa whose cause of death has been established and whose names Tabeau compared with the names listed in the annex to Mladic's indictment were fighters or died in combat.
When Ewa Tabeau completed her evidence, the prosecution rested its two-week case on the Tomasica mass grave near Prijedor. Six of the eight witnesses who have appeared in the courtroom are experts. Written statements of another five witnesses were admitted into evidence. Ratko Mladic's defense resumed calling evidence with the testimony of Milutin Misic, a member of the board of directors of the BiH Institute for Missing Persons.