Home
'ORGANIZING' SUSICA PRISON CAMP
In his evidence at Ratko Mladic's trial, Svetozar Andric, former commander of the VRS Birac Brigade, claimed that he didn't issue the order to 'establish' a prison camp in Susica. Andric did admit that he ordered the 'organization' of the prison camp. The number of prisoners in the area of responsibility of his brigade in late May 1992 increased, Andric explained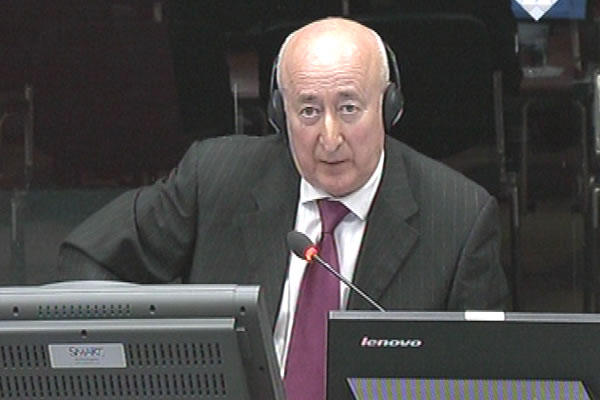 Svetozar Andric, defence witness at Rako Mladic trial
As the cross-examination of Svetozar Andric, former commander of the VRS Birac Brigade, continued today, the prosecutor confronted the witness with an order he issued on 31 May 1992. Andric ordered his subordinates to establish a prison camp in Susica, in Vlasenica. Andric insisted that he didn't order 'the opening' of the Susica camp. According to the witness, the prison camp had existed before his brigade was established. The only thing he did was to order 'the organization' of the prison camp, necessitated by a hike in the number of prisoners in late May 1992
In his testimony at the trial of the Zvornik Territorial Defense Commander Marko Pavlovic in Belgrade in 2007, Andric maintained that the Tribunal in The Hague established that the prison camp had been set up before his order was issued. At that trial, Andric referred to a statement made by the prison camp warden Dragan Nikolic. In a bid to challenge Andric's claim, prosecutor Tieger noted that in 2003 Nikolic told Judge Wolfgang Schomburg that the Muslim detainees were held in a local school and in the prison in Vlasenica until the end of May 1992 when the Susica prison camp was established.
Andric responded to the prosecutor's allegations by saying that the 'prison camp was not under the army's jurisdiction'. According to Andric, the Crisis Staff and police ran the prison camp and the military merely 'secured' the camp, on his orders. 'I don't know why you keep on blaming me for that prison camp', Andric said. The witness agreed that there were women and children in the prison camp but insisted that they were not prisoners. From time to time, women and children would arrive to the camp to seek temporary shelter, before going on towards Kladanj and the BH Army-controlled territory. Andric also said that their Serb friends from Vlasenica visited the inmates and brought them food.
The prosecutor remarked that the witness was painting a picture of an 'almost philanthropic' treatment of the civilians in the Susica prison camp. This, as he went on to say, did not jibe with the instructions in a military document, which specified that 'all visits and bringing food for prisoners must be prohibited'. Andric claimed the instruction was just a proposal made by the prison security service, which was never accepted. A little while later, Andric told the prosecutor that in fact he 'never even went into the prison camp' and his knowledge of Susica was 'superficial and minimal'. The witness found 'funny' the prosecutor's question if he knew about the terrible hygienic conditions, beatings, rapes and killings in the prison camp. When the judges told the witness he had to answer the question, Andric replied that he didn't know about that.
Prosecutor Tieger confronted the witness with a series of documents in a bid to prove that the persecution of Muslims in the area of responsibility of the Birac Brigade was part of the implementation of the strategic goals set by the RS political and military leadership. The strategic goal no. 4 envisaged the elimination of the border on the Drina river between the Republic of Serbia and Republika Srpska.
The trial of Ratko Mladic continues tomorrow morning with the evidence of a new defense witness.