Home
WHAT IS AND WHAT ISN'T CREDIBLE?
Former commander of the Doboj Garrison Milivoje Simic said in his evidence that he found 'incredible' the allegations in the media about '8,000 or more persons' killed in Srebrenica in July 1995. Yet, the witness found it 'credible' that 2,000 prisoners were executed without Mladic's knowledge and permission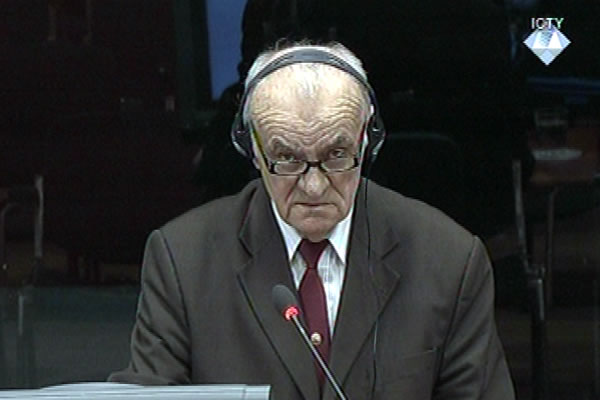 Milivoj Simic, defence witness at Rako Mladic trial
Former commander of the Doboj Garrison Milivoje Simic completed his evidence at the trial of Ratko Mladic. In his statement to the defense Simic recounted that the last time he saw General Mladic was in August 1995 in Doboj at a meeting with Momir Talic and Milan Martic. According to the witness, as Mladic walked in through the door he said that 2,000 people had been killed in Srebrenica. 'Brothers, something terrible has happened, it should never have happened, without my knowledge and permission', Simic quoted Mladic as saying.
In the cross-examination, prosecutor Arthur Traldi contested the credibility of Simic's testimony given that in the past 20 years the witness has never thought it might be a good idea to speak out about the mass crimes in Srebrenica and his knowledge of those events. Simic has not testified at any of the numerous Srebrenica trials of his fellow officers from the VRS. That, the prosecutor stressed, showed that Simic's evidence was 'not true'.
Simic was nevertheless adamant that his description of the events was accurate. The witness remained firm as he was peppered with questions both by the prosecutor and the judges, even when he mixed up years and events at one point. Simic thus recounted that after Mladic's statement about 2,000 Muslims who had been killed in Srebrenica, the meeting continued with Talic's report on the latest developments in Operation Koridor, which was in fact launched in 1992.
Responding to questions asked by Judge Orie, Simic said that he 'clearly understood that Mladic was referring to the killings, not to people who were killed in combat'. Also, Simic said that Mladic didn't make any further comments about the murders in Srebrenica because he 'probably didn't feel like it'. Besides, there 'was no need' for any additional explanations because they were told firsthand 'what had happened and why'. In those days, the witness said, the Muslim and Croat media published 'exaggerated' numbers: they spoke about '8,000 or more' victims in Srebrenica.
Simic said that it was 'incredible' that so many people, '8,000 or more', could have been killed without General Mladic's knowledge and permission. Yet at the same time, the witness told Judge Orie he found Mladic's claim that 2,000 persons were killed without Mladic's knowledge 'credible'. 'This was the result of organized covert efforts by someone, aimed against the VRS and the Serb nation', the witness concluded adding that he still believed that.
Prosecutor Traldi used the opportunity in Simic's cross-examination to point to numerous crimes in the territory of Doboj, Odzak and Teslic perpetrated by VRS troops and other units, such as the Wolves from Vucijak, which were under the command of Veljko Milanovic. A recording of a rally was played showing Momcilo Krajisnik saying that the Wolves from Vucijak were a 'unit that would make any army in the world proud'.
After Milivoje Simic completed his evidence, the defense called Mladen Blagojevic. Blagojevic was in the military police in the VRS Bratunac Brigade.