Home
WHAT WITNESSES TALK ABOUT AS THEY WAIT TO TESTIFY
After Milenko Jevdjevic completed his evidence, the defense called a new witness, Miodrag Dragutinovic. He also claimed that Mladic met the Drina Corps commanders in Bratunac on the day when Srebrenica fell, on 11 July 1995. The prosecution alleges that the meeting took place a day later, on 12 July 1995. In the cross-examination, Dragutinovic confirmed that he had seen Jevdjevic in the past few days and discussed the events in Srebrenica with him. He also discussed the 'atmosphere in the courtroom' with Jevdjevic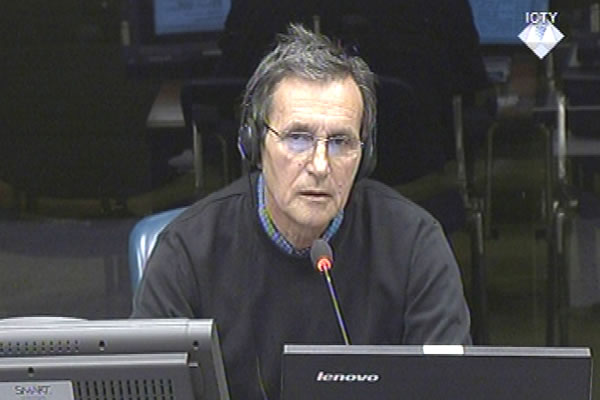 Miodrag Dragutinovic, defence witness at Rako Mladic trial
The trial of the former VRS Main Staff commander Ratko Mladic continued with the evidence of Miodrag Dragutinovic, former assistant to the Zvornik Brigade chief of staff. Although the witness provided a written statement, at the last minute the defense decided to examine Dragutinovic in court about his involvement in the VRS Srebrenica operation in July 1995.
In the examination-in-chief, Dragutinovic said that the Zvornik Brigade participated in Operation Krivaja 95, as the attack on Srebrenica was codenamed, with a tactical group consisting of about 400 men. The group was established specifically for that operation. At the beginning of July 1995, the group broke through towards Srebrenica to reach the Zeleni Jadar region on 11 July 1995. In the morning of 12 July, the witness headed towards Srebrenica together with Vinko Pandurevic, the Zvornik Brigade commander. According to Dragutinovic, Pandurevic then told him that he had attended 'a briefing in Bratunac' the previous night.
This was the same meeting discussed in the course of the testimony of Milenko Jevdjevic, the defense's previous witness. Jevdjevic too claimed that Mladic's meeting with the brigade commanders was held in Bratunac on 11 July 1995. On the other hand, the prosecution alleges that the meeting was held on 12 July 1995; by that time, the first buses with Muslim captives had already arrived in Bratunac. The detainees were temporarily held in the Vuk Karadzic school. The next day, the prisoners were transferred to execution sites.
In the cross-examination, prosecutor Peter McCloskey wanted to know if Jevdjevic and Dragutinovic had had any contact with each other in The Hague and if they had discussed the events from July 1995. Dragutinovic confirmed that he knew Jevdjevic. The two of them stayed in the same hotel, Dragutinovic said, and they 'naturally' saw each other every day at breakfast, lunch or on some other occasions. They did talk about the events in Srebrenica, Dragutinovic noted. However, as a 'signalman' Jevdjevic wanted to talk about the details of the communications systems and the 'unpleasantness' he experienced in court. Dragutinovic didn't want to discuss those topics: they 'wore him out' because he 'had nothing to do with that'.
As he answered some questions put to him by Judge Orie, Dragutinovic said that it was 'logical' for him and Jevdjevic to discuss the 'atmosphere in court'. Since Miodrag Dragutinovic hasn't yet completed his evidence, the presiding judge warned him at the end of the hearing that in the meantime he shouldn't discuss his evidence with anyone, not even to talk about the 'atmosphere' or impressions in the courtroom.