Home
HOW TO DRESS UP BODIES
Nenad Davidovic, former chief medical officer in the 6th Sana Brigade, recounted at the trial of Ratko Mladic that he had proposed at a Crisis Staff meeting to dress the bodies of murdered civilians in military uniforms to give them a 'dignified' burial. The prosecutor claimed it was an attempt to cover up the crime and create an impression that the victims were soldiers killed in combat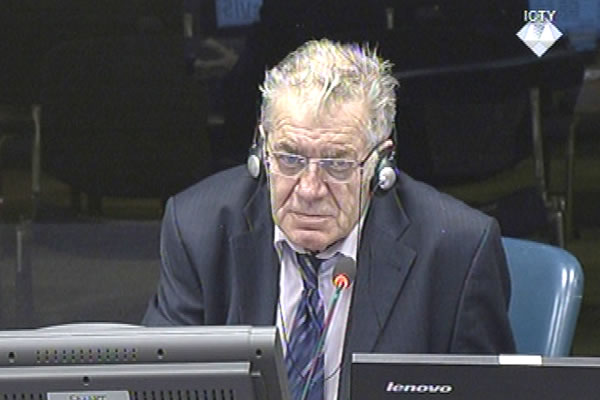 Nenad Davidovic, defence witness at Rako Mladic trial
Nenad Davidovic, former chief medical officer in the VRS 6th Sana Brigade, mentioned in his statement to Mladic's defense that he had taken part in the clean-up operation in late May and early June 1992, following the actions in which weapons were taken from the non-Serbs in the area.
As the cross-examination continued, the prosecutor referred to the evidence showing that the Muslims killed in the operations to seize weapons were thrown in mass graves; there were no proper burials and their families were not present. The prosecutor put it to the witness that family members couldn't attend the funerals because the Serb authorities had arrested and detained them. According to the witness's diary, men were held in the Narodni Front primary school, while women and children were detained in the Sports Hall. 'It was a long time ago', the witness replied, adding that he couldn't remember everything.
The prosecutor stressed that at the Crisis Staff meeting on 30 May 1992 the witness wrote down in his diary that 'the bodies might be dressed up in uniforms'. This, the prosecutor argued, was an attempt to cover up the fact that the victims were civilians and to create an impression that the victims were soldiers. The witness dismissed the allegation, saying that the entry referred to the Muslims from the village of Hrustovo. Their bodies had been out in the open for several days and were 'dressed scantily'. As Davidovic explained, he wanted to put them in uniforms to give them a 'dignified burial'. The prosecutor stressed that the witness wrote down his entry before the events in Hrustovo. Davidovic eventually agreed with Judge Moloto that the bodies had been buried in an 'inhumane way'.
The witness argued that the non-Serbs left Sanski Most 'voluntarily'. The allegation prompted the prosecutor to quote an ultimatum issued by the Serb authorities to the inhabitants of the village of Pobrijezje: the village would be shelled if they refused to hand over their weapons. The prosecutor also showed a list of distinguished Muslims in the witness's diary. The list included medical doctor Mehmed Alagic and jeweler Faik Biscevic. A few days after the meeting, Alagic was killed while Biscevic was put in detention together with his three sons.
Davidovic couldn't remember what the purpose of the list of Muslims in his diary was. The witness said that he heard about Alagic being found dead. Faik Biscevic's property was looted, one of his sons suffocated as the prisoners were moved from Betonirka to Manjaca and another son survived the transfer to Manjaca but did not come out of the camp alive: Davidovic knew nothing about any of those facts. He told the prosecutor that the VRS didn't provide security during the transfer of prisoners from Betonirka to Manjaca. The Health Center was in charge of that, Davidovic explained.