Home
CROATS HAD TO PAY THEIR WAY THROUGH SERB TERRITORY
Through the evidence of Davor Kolenda, Ratko Mladic's defense tried to prove that the VRS observed international humanitarian law when it allowed about 6,000 Croats to pass through its territory in the summer of 1993. The prosecution noted that Mladic didn't let the Croats from Travnik to pass out of the kindness of his heart. He did it because he stood to gain, in military, strategic, propaganda and financial terms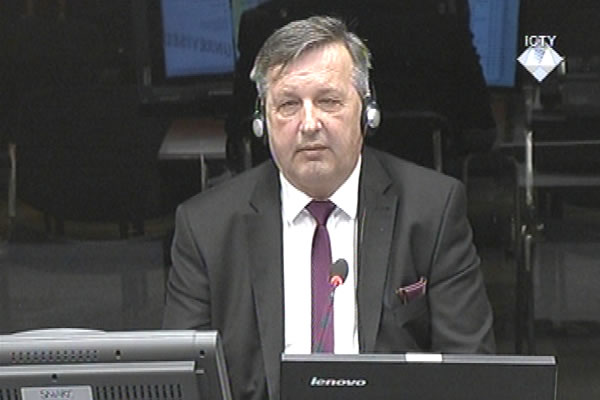 Davor Kolenda, defence witness at Rako Mladic trial
Former HVO secretary-general in Travnik Davor Kolenda described in his statement to Mladic's defense how about 6,000 Croats from Travnik were able to leave the area and pass through the Serb-held territory on 7 June 1993. About 5,000 women, children and the elderly were taken to Croatia in buses. About 800 men of military age were detained several days in the Manjaca prison camp. There, Kolenda recounted, they were given 'accommodation on humanitarian grounds; there was no criminal intent'.
Kolenda's statement to Mladic's defense is almost identical to what he told to the Croatian SIS in 1993. Only a couple of paragraphs are missing in Kolenda's statement to Mladic's defense. In one of those paragraphs, prosecutor Roeland Bos noted, the witness said that when he was in Manjaca he was asked to give an interview to a Serb TV network. Serbs wanted to use the situation for propaganda purposes, Kolenda explained. Replying to the prosecutor Kolenda said that the Serbs had thus wanted to 'show the world' that they 'were observing every single element of international humanitarian law'.
In his statement to Mladic's defense Kolenda claimed that the Serb army treated him and other Croats in Manjaca 'properly'. This prompted the prosecutor to remind the witness of yet another part of his statement to the SIS. In it Kolenda described how the Serb troops in Manjaca forced him and the others to chant 'Bosnia is Serbian, like Moscow is Russian' the whole day long, in 30-degree heat. Kolenda agreed that the Serb army treated him and other Croats 'in a humiliating manner'.
The prosecutor went on to show a document which indicates that Mladic personally allowed the Travnik Croats to pass through the Serb territory. Mladic didn't do it because he was 'altruistic' but because he wanted to improve the position of the Serb troops in the battlefield. Also, the prosecutor brought up several documents that show there was close cooperation between the VRS and HVO in the war against the BH Army. The VRS provided artillery support to the HVO when necessary. Also, the VRS supplied arms in exchange for oil and money and Croats paid dearly for their assistance. Mladic's cable from June 1993 is particularly interesting in that context. The cable notes that the 'HVO should give the Serb side 1.5 million German marks for the transportation of Croats from Travnik, for food, cigarettes…'.
Kolenda said he was aware that the VRS and HVO worked together during the war. 'Serbs needed oil, and Croats did not have enough weapons and ammunition and it was easy for the two sides to come to an agreement', the witness explained. Kolenda claimed he didn't know anything about any payments made to secure the departure of Croats from Travnik in the summer of 1993.