Home
PRAISE FOR 'COURAGEOUS AND FAIR' GENERAL MLADIC
Former doctor in the Sokolac Military Hospital Simo Bilbija and a protected witness who commanded one of the units in the VRS Main Staff testified in Ratko Mladic's defense today, praising the accused profusely. According to the witnesses, he was courageous and fair, an expert in 'warfare and strategy' and when he talked to the soldiers, they felt like 'sick men hooked up to an IV feed'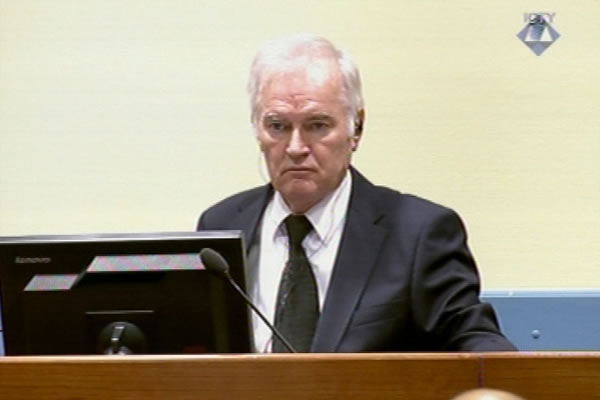 Ratko Mladic in the courtroom
After Bosko Mandic, former member of the Prijedor Crisis Staff, completed his evidence, Ratko Mladic's defense called a witness who testified under the pseudonym GRM-130 with image and voice distortion. Much care was taken to keep any information that might identify him from the public. The only information provided was that he was 'a career officer' who commanded one of the units in Mladic's Main Staff from 1993.
At the beginning of the testimony, the witness spoke about his service in the JNA in Croatia. The defense counsel then moved on to 26 June 1995 when, as the witness alleges, the Muslim forces from Srebrenica and Zepa attacked the Serb troops, reaching a point 300 meters from the Main Staff HQ in Crna Rijeka. The attack was repelled 'thanks to luck and ruses of war', the witness said, but he was seriously wounded in it.
In his capacity as an officer close to the accused, the witness said that Mladic was 'an officer that followed the service manual', always neat with a military bearing. He was an expert in 'warfare, strategy and tactics'. He demanded from his subordinate officers to know everything about their soldiers, and he wanted to see hard work and order in the units. He toured the front lines to talk to soldiers. As the witness said, this meant the world to them: 'it was like hooking up a sick man to an IV feed'.
At the beginning of the cross-examination, prosecutor Hasan showed a document dated 13 July 1995 in which General Mladic demands that reporters and other 'uninvited persons' be prevented from entering the Srebrenica and Zepa areas. In the same order, Mladic prohibits the spreading of information about the course of the fighting, and in particular about prisoners of war who were executed in the days that followed. The witness said that officers at his level were not apprised of this order. The rest of the cross-examination was conducted in closed session.
Before the hearing ended, Simo Bilbija began his evidence. He was a doctor of the military hospital in Sokolac during the war and later worked in the Banja Luka medical center. In his statement to the defense Bilbija states that Mladic insisted that the enemy soldiers be given medical treatment without any discrimination. As Bilbija says, on Mladic's orders he took part in a joint medical commission that carried out the evacuation of civilians from Srebrenica in 1993. The witness describes the accused as an honorable, fair and courageous soldier who wanted the witness to act in line with the medical ethics.
Simo Bilbija's evidence will continue on Monday.
Photos