Home
PROSECUTION MOTION TO CALL EVIDENCE ON TOMASICA GRANTED
Judge Orie's Trial Chamber has granted the prosecution motion seeking leave to reopen its case in order to call evidence on the Tomasica mass grave. The judges ruled that 'new evidence' was relevant for the indictment with respect to the crimes in the municipalities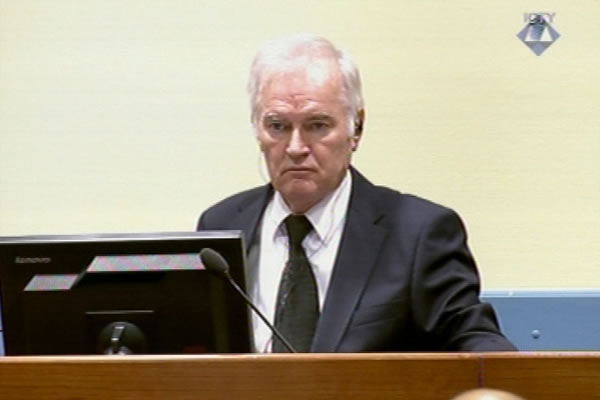 Ratko Mladic in the courtroom
The Trial Chamber hearing the case against Ratko Mladic has granted the prosecution's request to reopen its case in order to call evidence on the mass grave in Tomasica near Prijedor. The prosecution will thus be able to present and tender into evidence the testimony of six experts, seven fact witnesses and some additional materials. The Trial Chamber will decide later about the exact date for the reopening of the prosecution case.
As indicated in the decision, the judges feel that the new evidence in the prosecution's possession that pertains to the Tomasica mass grave is 'relevant' for Mladic's case and has 'probative value' as regards the allegations about the crimes in the municipalities. The judges have given particular weight to the prosecution's allegations that the new evidence sheds light on the organized, systematic and mass nature of the murders in Prijedor and the role of the VRS in the killing, burial and digging up of the graves.
The Trial Chamber, the document notes, is aware that the reopening of the prosecution case would prolong the trial but not 'excessively'. The judges also stress that the prosecution filed the motion to reopen the case in the early stages of the defense case. Only 60 of about 300 planned witnesses have testified so far. The defense will thus have 'many opportunities to contest the prosecution's allegations'.
The prosecution filed the motion seeking leave to reopen its case in August 2014, indicating that it would tender 43 documents and call 13 witnesses. Seven witnesses are survivors or workers in the Ljubija mine, and six are experts. The exhumed bodies are linked with the crimes in several locations listed in the indictment against Mladic. Among them are the murders in Kozarac, Hambarine, Brdo, Biscani and neighboring hamlets as well as the executions of prisoners in the Keraterm and Omarska prison camps in Prijedor.