Home
(UN)REASONABLE USE OF AMMUNITION IN SARAJEVO
Colonel Vlade Lucic claimed that the Serb side in the Sarajevo theatre of war used ammunition reasonably and almost entirely for the purpose of the defense. The prosecutor confronted the witness with a document of the Sarajevo-Romanija Corps which warns the subordinated brigades to stop opening unreasonable fire on inhabited parts of the city when there was no fighting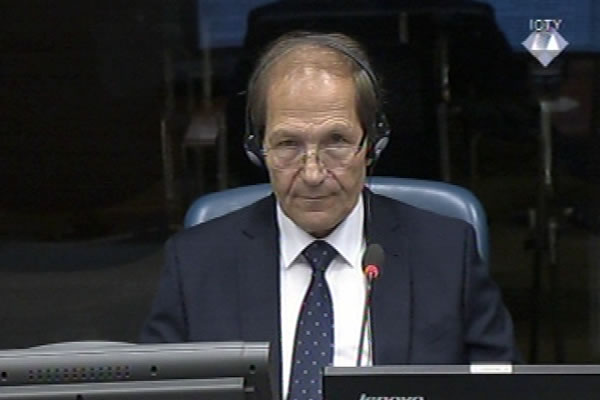 Vlade Lucuc, defence witness at Rako Mladic trial
In the second part of the hearing on Thursday, Ratko Mladic's defense called Vlade Lucic, Bosnian Serb military colonel. At the beginning of the war in BH,Lucic was appointed battalion commander in the 1st Romanija Brigade. From February 1993 to the end of the conflict Lucic held a post in the Brigade command. Lucic's testimony was the same as when he testified at Radovan Karadzic's trial. The statement Lucic gave to the defense of the former Bosnian Serb president was admitted into evidence.
Lucic stated that the goal of the Serb side in the Sarajevo theatre of war was to prevent the BH Army from launching an offensive from the city. The Serbs thus mainly engaged in defensive actions; they would open fire on military targets and not on civilians. Lucic suggested that the Serb side used the ammunition reasonably, only for the purpose of defending themselves. The witness remembered that the Bosnian Serb military and civilian authorities advocated the demilitarization of Sarajevo and were 'liberal'about civilians going in and out of the city.
In the examination-in-chief the witness was questioned by defense counsel Ivetic. Lucic said that his battalion had six 60mm and six 82mm mortars that were used solely for defensive purposes. The witness admitted that the mortars'range was sufficient to reach targets in the city but was adamant that they were never fired on those targets.
The witness described the measures taken against undisciplined Serb soldiers: they were mostly punished for desertion and unprofessional conduct in combat. Also, Lucic said that a soldier from his unit, whose last name was Pejakovic, was punished for killing a Bosniak who had attacked him and another civilian who had intervened in the quarrel.
In a bid to contest the witness's claim that the 'ammunition was used reasonably and for self-defense', prosecutor MacGregor showed a document from July 1995, in which the Sarajevo-Romanija Corps command warns the subordinated brigades not to waste ammunition. The document also noted that some units used ammunition 'as if they had plenty of it', shelling inhabited parts of the city when there was no fighting at all. The Corps commandstressed that 'some brigades spend a lot less ammunition to repulse three or more fierce attacks a day than some others which attack inhabited locations when there is no fighting going on'. The prosecutor didn't ask the witness any questions about the allegations in the document and quickly wrapped up the cross-examination.
The trial of Ratko Mladic on the indictment for double genocide and other crimes in BH continues on Monday.