Home
GUARD FROM 'RECEPTION CENTER' FOR WOMEN IN FOCA TESTIFIES AT MLADIC TRIAL
Through the evidence of Milutin Vujicic from Foca, Ratko Mladic's defense tried to contest the allegations from the indictment about the systematic rape of Muslim girls and women in Foca in 1992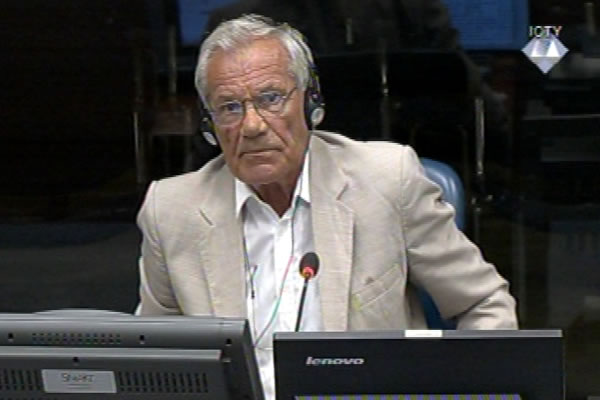 Milutin Vujičić, defence witness at Rako Mladic trial
Milutin Vujicic from Foca testified at the trial of the former VRS Main Staff commander Ratko Mladic. Through Vujicic's testimony, the defense wanted to contest the allegation in the indictment that the Partizan Sports Hall was one of several prison facilities in Foca where Muslim girls and women were systematically raped in 1992.
Vujicic served as a guard in the Partizan Sports Hall in the first half of April 1992. He spent four days there. According to Vujicic, the Serb authorities organized a 'reception center' for Muslim women in order to ensure their 'safety'. Vujicic said there were 'several women' in the prison facility, and they could 'move freely and receive visitors'. The Serb authorities protected several Muslim houses in Foca in the same manner, the witness added.
Replying to Mladic's defense counsel Dragan Ivetic, the witness said that the Muslim civilians left Foca 'voluntarily', although the Serb authorities 'begged' them to stay. The witness claimed that mosques and other Muslim religious buildings were damaged in the fighting with the Patriot League and the Green Berets units. Also, many other buildings were destroyed in the fall of 1995 as collateral damage during NATO air strikes.
Prosecutor Cammila Bibles confronted the witness in the cross-examination with a report drafted by Colonel Marko Kovac, commander of the Foca Tactical Group. In his report of 31 August 1992, Kovac notes that 55 elderly men and 40 women and children were 'released' that month from the Penal and Correctional Facility in Foca in order not to be there when 'the commission pays the announced visit'.
If the women in Foca had been 'protected' in the way the witness described in his statement, then why did the Serb authorities deem it necessary to 'evacuate' them at one point, prosecutor Bibles asked. Vujicic replied that he had not seen the document before and didn't know anything about those women.
In the cross-examination, the prosecutor quoted from a report drafted by the Council of Europe, which states that 13 mosques were destroyed in Foca by the end of 1993. That, presiding judge Orie noted, surely happened before any NATO strikes. The witness replied that 'groups and individuals that ran riot in Bosnia' destroyed or damaged some mosques.