Home
APPLICATION FOR A CHANGE OF RESIDENCE
Muslims who lived in Pale 'were not expelled', argued former president of the Pale Executive Board Zdravko Cvoro. On the contrary, the Serb municipal authorities actively tried to persuade them to stay, but in the end, Muslims submitted 'their applications for a change of residence' and the authorities 'granted their applications'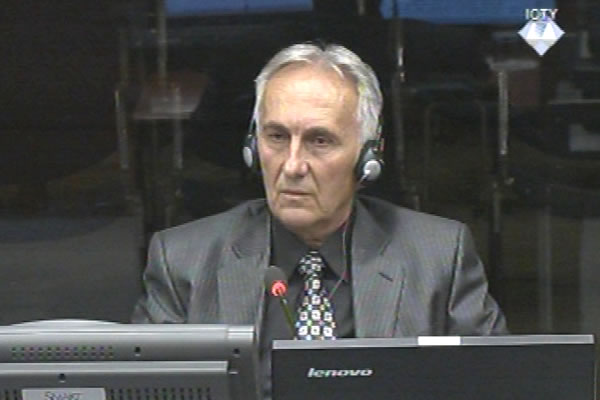 Zdravko Cvoro, defence witness at Rako Mladic trial
Zdravko Cvoro, former president of the Pale Executive Board, began his evidence at the trial of Ratko Mladic. In his statement to Mladic's defense Cvoro said that the crimes committed by Muslims against Serbs made the Muslims in Pale 'fear retribution'. This is why, despite the Serb authorities' 'active efforts' to persuade them to stay, Muslims insisted they wanted to leave. In the end, the Pale Muslims submitted their 'applications for a change of residence' to the authorities.
In the examination-in-chief, Cvoro noted that 'Muslims left in line with their own applications, in an organized fashion and without any problems'. In early June 1992, the witness explained, there were some 'problems regarding the evacuation of Muslims', but then an Assembly session was held; it resulted in the Muslims submitting their 'applications for a change of residence'. 'We complied with their applications', the witness said. Because of some transportation problems, Muslims left Pale to go to Sarajevo in batches. They took their property with them, including vehicles.
In response to questions asked by Mladic's defense counsel Branko Lukic, the witness said that the abandoned apartments, houses and weekend cottages were given to Serb refugees. There were some instances of abuse, but the municipal authorities strove to put an end to them, the witness explained. The municipal commissions made a detailed list of abandoned property that, as the witness noted, was kept safe and returned to rightful owners. The witness himself lived in a Muslim-owned property: a cottage owned by Izetbegovic's advisor Hajrudin Somun. After the war the witness returned the cottage to the owner together with everything he had found inside. On the other hand, the witness found his apartment in Sarajevo in a 'dilapidated state, largely empty'.
In the examination-in-chief, Cvoro spoke about the fighting in late May 1992 in the village of Renovica. Until the beginning of the conflict, the village had a 90 per cent Muslim majority. According to the witness, the Serb troops from Pale went to Renovica to disarm the Muslims but failed to do it. During the fighting in the villages of Renovica and Praca, a frontline was established. It remained active until the end of the war. The rear part of those two villages was adjacent to the part of Gorazde area controlled by the BH Army.
As the hearing drew to a close, the prosecutor started cross-examining the witness. The cross-examination will continue next week, after the testimony of Dragan Lalovic.