Home
MLADIC'S DEFENSE HAS ITS PROBLEMS
Due to problems with remote access to the Tribunal's IT system Mladic's defense has asked for the trial to resume three weeks later than originally planned. The trial was scheduled to continue on 12 May 2014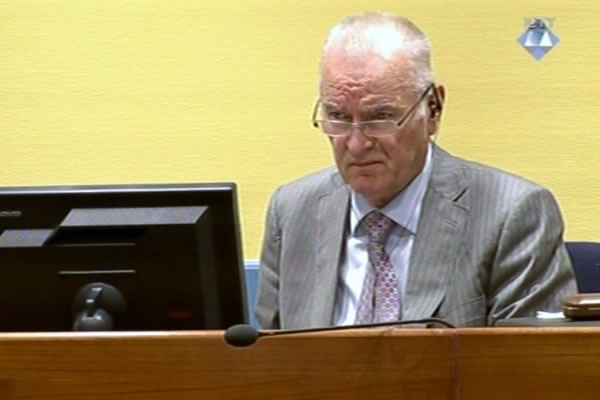 Ratko Mladic in the courtroom
Ratko Mladic's defense has petitioned Judge Alphons Orie's Trial Chamber to postpone the resumption of the trial by three weeks. The trial was originally slated to continue on 12 May 2014. According to the current schedule, the trial was to resume with the pre-defense conference, and Mladic's first witnesses were expected to appear on 13 May 2014.
The reason for the delay, the defense has explained in the motion, are the problems with the Tribunal's IT system caused by the switch to the new version of the Windows operating system. Despite the efforts of the technical support unit, the defense still has problems with accessing the documents and data necessary for the preparation of the defense case.
The defense lawyers claim they are unable to log in and work on their computers in the Tribunal's building or to access the databases from remote locations. The defense has been unable to retrieve the documents in the so-called e-Court environment, to access transcripts from the trials, or even to use the scanner they have been given. According to the defense, a three-week postponement would make it possible for them to make up for the time lost.
The prosecution has responded by proposing that a hearing be held as soon as possible to discuss the problems and clarify the defense's position; the Tribunal's technical staff should also attend the hearing.
The trial of the commander of the Bosnian Serb army Main Staff has been adjourned since the prosecution rested its case. In the first stage of its case the defense will contest the allegations relating to the war-time terror campaign against the citizens of Sarajevo, the first of the four joint criminal enterprises Mladic is charged with. Mladic is on trial for the crimes in the parts of BH claimed by the Serbs in 1992. In some municipalities, those crimes reached the scale of genocide. He is also charged with the genocide in Srebrenica in July 1995 and for taking UN staff hostage in the spring of 1995.