Home
MOTION TO REVERSE STANISIC'S AND ZUPLJANIN'S JUDGMENT DENIED
The motion filed by the former Bosnian Serb police chiefs Mico Stanisic and Stojan Zupljanin to declare a mistrial and to reverse the trial judgment because of the alleged bias of Judge Harhoff has been denied. Judge Harhoff sat on the Trial Chamber that found Stanisic and Zupljanin guilty of the crimes committed in 1992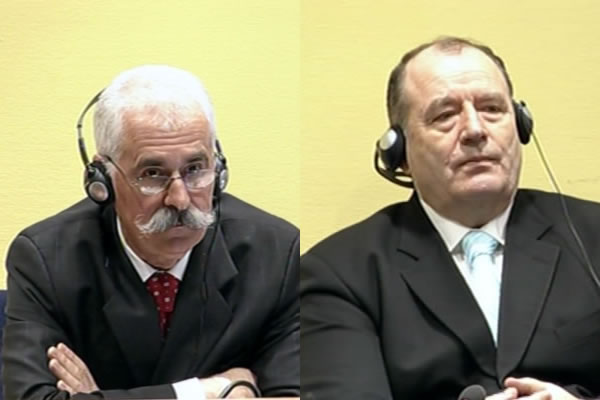 Mico Stanisic i Stojan Zupljanin in the courtroom
The Appeals Chamber has denied the motions of Mico Stanisic and Stojan Zupljanin to declare a mistrial for alleged bias of one of the Trial Chamber's judges.
Former chiefs of the Bosnian Serb police Stojan Zupljanin and Mico Stanisic were sentenced to 22 years for crimes committed throughout BH in 1992. Their case is currently in the appellate stage of the proceedings. In October 2013, Stanisic's and Zupljanin's defense lawyers filed a motion asking the judges to reverse the trial judgment and declare a mistrial because the Danish judge Frederik Harhoff had sat on the Trial Chamber that had found them guilty. In the meantime Judge Harhoff was disqualified from the Trial Chamber in the Vojislav Seselj case because of his alleged bias. The fact that Judge Harhoff participated in the deliberations in the case, 'seriously and irreparably violated the right of the accused to a fair trial' by a Trial Chamber of impartial judges, Stanisic's and Zupljanin's defense lawyers claimed.
The decision to deny the defense motion notes that it is the well-established practice at the Tribunal to deal with allegations of partiality of trial judges in the course of the normal appellate process. The judges also stated that they 'are not convinced' that the findings of the special panel in the Seseslj case resulted in the circumstances that would require them to reach the so-called interlocutory decision on the motions of the accused. Also, the judges note that the factual findings were not binding for other trials at the Tribunal. There are no 'final conclusions' on Judge Harhoff's bias in the case against Stanisic and Zupljanin.
As the Appeals Chamber also noted, in the meantime Stanisic's and Zupljanin's defense lawyers had sought permission to amend their motions with a new ground of appeal pertaining to Judge Harhoff's purported bias. They also sought leave to tender into evidence the letter which was leaked to the press in June 2013, causing the Harhoff affair. If the requests are granted, it was explained in the decision issued on Thursday, the defense and the prosecution will have an opportunity to exchange arguments about Judge Harhoff's alleged bias in the course of the deliberations on the trial judgment in the regular appellate proceedings.