Home
MLADIC BACK TO FIVE-DAY WORKING WEEK REGIME
In line with the Appeals Chamber's order issued last year, the Trial Chamber hearing the case against Ratko Mladic reassessed the trial sitting schedule, concluding that the trial could go on at full speed during the defense case, for five instead of four days a week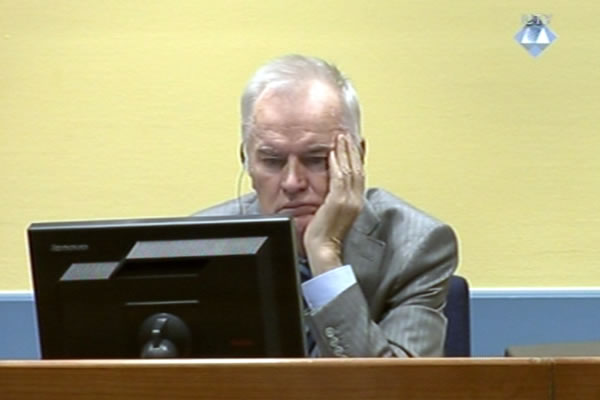 Ratko Mladic in the courtroom
Judge Alphons Orie's Trial Chamber has ordered the trial of Ratko Mladic to proceed under a new regime, for five instead of four days a week. During most of the prosecution case, the trial went on for five days a week. The Registry was ordered to arrange cardiological and neurological examinations for Mladic every four months during the defense case and to notify the Trial Chamber about the results.
With this latest decision, the struggle between the defense and the Trial Chamber over the length of the working week is back on square one, where it was a little over a year ago. In January 2013, the defense demanded that the working days be cut down to four because of Mladic's ill health. The judges dismissed the request, deciding that the trial didn't jeopardize Mladic's health. The Trial Chamber continued monitoring the health of the accused, and at one point the medical reports indicated the accused was showing signs of 'fatigue and exhaustion'.
Invoking the doctors' recommendation, in April 2013 the defense once against requested a shorter working week but the Trial Chamber denied the motion. The decision was reversed on appeal in late October 2013, and the prosecution case continued at four days a week. At the same time, the Trial Chamber was directed to reassess the working hours at the beginning of the defense case, and has now complied with the direction.
In light of the reports submitted by the cardiologist, the neurologist and the general practitioner, and the motions filed by the parties, the Trial Chamber has ruled that the trial can proceed at full speed, for five days a week. In the prosecution's view, the five-day working week is 'adequate'. The defense, on the contrary, argued that Mladic's health was at risk, and demanded that the cardiologist and neurologist were questioned in the courtroom.
The defense case is slated to open on 13 May 2014. The defense was ordered to submit the witness and evidence list by 28 April 2014, and fulfill its obligation to disclose the evidence to the prosecution until 5 May 2014.