Home
WITNESS DOESN'T KNOW WHO KILLED VILLAGERS, BUT KNOWS THEY 'RAN AMOK'
Jovan Kevac from Kljuc claimed at the trial of Radovan Karadzic that 'individuals that ran amok' killed about 100 men in the village of Biljani on 10 July 1992. Kevac rejected the prosecutor's suggestion that he had been the commander of the operation in Biljani. In his statement to Karadzic's defense the witness conveniently forgot to mention that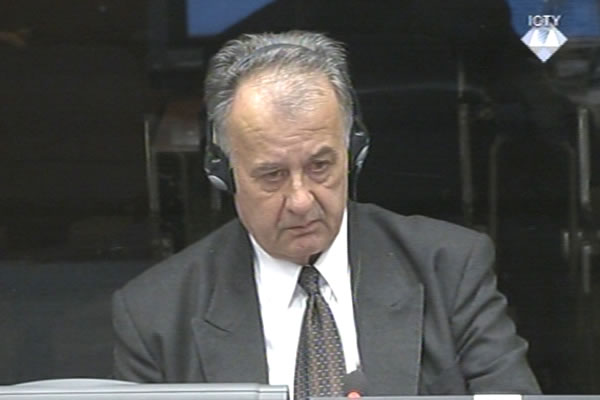 Jovan Kevac, witness at the Radovan Karadzic trial
Karadzic introduced defense witness Jovan Kevac as a pre-war member of the Kljuc Municipal Assembly. Speaking of Kevac's military career Karadzic mentioned that before the war Kevac was transferred to the JNA 820th Training Center in Banja Luka. In his written statement to the defense Kevac claimed that the Serb authorities in Kljuc didn't plan or order the ethnic cleansing of non-Serbs in the municipality. Kevac said that 'individuals who ran amok' were responsible for the killing of about 100 Muslims in the village of Biljani on 10 July 1992.
Prosecutor Carolyn Edgerton put it to the witness in the cross-examination that in the statement to the defense he deliberately omitted some important details from his military career. Among them is the fact that as the battalion commander in the Kljuc Brigade Kevac had been Marko Adamovic's and Marko Samardzija's superior. Adamovic and Samardzija were convicted for the crime against the Muslim detainees in Biljani. The prosecutor showed a VRS document stating that Kevac was the commander of the operation in Biljani.
Kevac argued that it was not true. In July 1992, he was the 'commander of battalion in the process of being established', Kevac explained. This, in Kevac's opinion, meant that he didn't have command responsibility. As Kevac said, he was appointed battalion commander only in late August 1992.
In response to the prosecutor's questions, Kevac admitted that in the morning of 10 July 1992 he spoke over the radio with Samardzija. Kevac denied that Samardzija told him about the strange goings-on. The conversation was brief, the witness recalled, and the only thing he told Samardzija was to send his men home after the police arrived in the village.
Kevac explained that Samardzija had told him that same evening about the killings in Biljani. Samardzija didn't tell Kevac who committed them and how many dead there were. Since Kevac claimed that he had had no knowledge of who committed the killings, the prosecutor put it to Kevac that it was logical to conclude that Kevac in fact didn't know the identity of those 'individuals who ran amok' that he blamed for the killings. As Kevac explained, he later heard rumors that the villagers had been killed by paramilitaries, but that 'was not confirmed'. Kevac also heard rumors that the persons who committed the crime in Biljani had been arrested and taken to Banja Luka. They were purportedly tried there, but, as Kevac eventually had to admit, he didn't have any evidence about it.
In the re-examination, Karadzic tried to contain the damage by asking the witness leading questions, a practice that is prohibited. Indeed, at one point Kevac told Karadzic 'President, you have already answered the question yourself'. After he completed his evidence, Kevac asked to be allowed to say goodbye to 'my president'. The presiding judge didn't allow it. However, when the judges were on their way out of the courtroom, Kevac called out to the accused, 'So long, Mr. President, may God preserve you…'